Shopping for someone who loves to cook? These kitchen gifts are a great place to start. They include must-have appliances, cookbooks, and more!
Happy holidays, friends! If you're looking for the perfect gift for someone who loves to cook (and that someone can totally be you!), you're in the right place.
Below, I've rounded up my favorite cooking gifts of the year. They include gorgeous cookbooks, impressive appliances, stunning serving dishes, and more. I can vouch for all of them – they're some of the most-loved and most-used items in my kitchen. No matter what you pick, I promise, it'll be a wonderful gift for whoever's on your list.
Now, to our favorite kitchen gifts:
Our Cookbooks!
The perfect gifts for the veggie lover in your life! Here's a little about each one:
Love & Lemons Every Day – Our latest book. Organized by meal type, it's packed with over 100 bright, plant-forward recipes and invaluable cooking graphics and charts (like a Giant Grid of Salad Dressings!). All the recipes are vegetarian, and many are vegan and/or gluten-free. Favorites include Breaded & Baked Artichoke "Fish" Tacos, Creamy Sweet Corn Pappardelle, Turmeric-Spiced Whole Roasted Cauliflower, Vegan Date Brownies, and more.
The Love & Lemons Cookbook – Our first book. Organized by vegetable (and fruit!) from A to Z, this book is ideal for using your farmers market finds. It includes fresh, simple recipes that showcase seasonal produce as well as more signature Love & Lemons graphics and charts. A few favorites are the Creamy Miso Brussels Sprout Fettuccine, Roasted Cauliflower Tacos with Chipotle Cream, and Vegan Tart Cherry French Toast.
The Love & Lemons Meal Record and Market List – A pretty way to plan your meals for the week! This journal includes space to enter ideas for breakfast, lunch, dinner, and snacks, as well as a handy tear-off pad where you can write your grocery list.
Staub Dutch Oven
I use this enameled Dutch oven more than any other pot in my kitchen. It's ideal for making soups, stews, breads, and more, it's easy to care for, and it's built to last a lifetime.
Vitamix Blender
This high-powered blender isn't just for smoothies! I use it daily for making creamy soups and sauces, emulsified dressings, and even desserts. I especially love that I can use it to make nut-based sauces, like my Cashew Cream, without soaking the nuts first. This blender would be an amazing gift for any home cook, especially someone who likes experimenting with vegan and dairy-free recipes.
KitchenAid Stand Mixer
A kitchen essential for baking cookies, cakes, bagels, breads, and more! We also love using the pasta attachment to make our Homemade Pasta. This sturdy appliance will last for years and is well worth the investment, especially for someone who loves baking.
Ceramic Dinner Bowls
If you eat a lot of grain bowls and big salads, you know that a meal-sized bowl is a must. These ones are our favorites.
Le Creuset Dutch Oven – Chambray
A classic cooking gift! Like the Staub Dutch oven, this enameled cast-iron pot is ideal for making pastas, breads, soups, and more. I have my eye on their pretty new Chambray color.
Ceramic Caraway Pans
If you're shopping for someone who loves making eggs, pancakes, or rice, they NEED a good set of nonstick cookware in their kitchen. We've just started using these non-toxic ceramic Caraway pans, and we're big fans! Bonus: they're easy to store.
Staub 10-inch Cast Iron Skillet
My go-to skillet! It's ideal for cooking frittatas, cornbread, pizza, pastas, and so much more. Because it's enamel-coated, it's easy to clean with just soap and water.
Silicone Coated Cooking Utensils
If you're springing for an enamel- or ceramic-coated pan, you'll want to have a set of these utensils handy. Because they're coated in silicone, they won't scratch your cookware's surface.
Instant Pot Omni Plus Air Fryer
We've tried SO many air fryers, and this one is by far our favorite. Veggies, onion rings, fries – everything comes out super crispy! We also find that the toaster oven style of this air fryer makes it easy to use and convenient to store.
Ceramic Pinch Bowls
I have a thousand tiny bowls! I find them so useful for serving bits of things on the side – think sea salt, red pepper flakes, a dressing, or fresh herbs. Plus, they're super cute!
Instant Pot Duo Plus
I love using the Instant Pot for making homemade basics like beans and rice, as well as mashed potatoes and hearty soups. It's a great gift for the busy cook in your life, as it allows you to walk away while your food is cooking.
Wood Serving Board
Know someone who loves hosting? This cute, affordable board is the gift for them! It's an essential serving piece for cheese boards, veggie platters, and more.
Weck Glass Jars
These jars are a versatile kitchen gift! I store all kinds of grains and beans in them in my pantry. They're also fantastic for making any type of pickle – pickled red onions, pickled jalapeños, dill pickles, etc.
My Favorite Serving Platter
When I'm serving a big salad that needs a shallow platter (so heavier veggies don't sink to the bottom), I always reach for this one. It's perfect for recipes like my Caesar Salad, Asparagus Salad, and Citrus Salad. It would be another great gift for someone who likes to host.
Zip Top Reusable Storage Bags
For that person who's trying to cut back on single-use plastic! These silicone stasher bags are easy to clean in the dishwasher, and they come in a handy variety of sizes. I love using them to store chopped veggies and halved lemons in my fridge.
Microplane Zester
An absolute MUST for any citrus lover (like me!). This zester also comes in handy for grating garlic, fresh ginger, and Parmesan cheese.
Miyabi 5.25 Inch Prep Knife
This knife is smaller than a typical chef's knife, but I've found it to be essential nonetheless. It's SO sharp and and easy to maneuver for precise cutting.
Staub Mini Cast Cocottes (or Ceramic Cocottes)
Who wouldn't love unwrapping these cocottes on Christmas morning? They're just so cute! An impressive way to serve French onion soup, mini pot pies, apple crisp, and more.
KitchenAid 7-cup Food Processor
When it comes to kitchen essentials, a good food processor is right up there with a Vitamix blender. We like the 7-cup size for making veggie burgers, falafel, dressings, and big batches of pesto. It's easier to store and more convenient than larger food processors.
Wood Salad Bowl
A simple wood serving bowl is just so versatile! I love how beautiful this one is.
Falcon Enamelware Prep Set
I love Falcon Enamelware because their pieces are super cute, and they never chip. I use these and their Pie Set for all kinds of prep and serving tasks.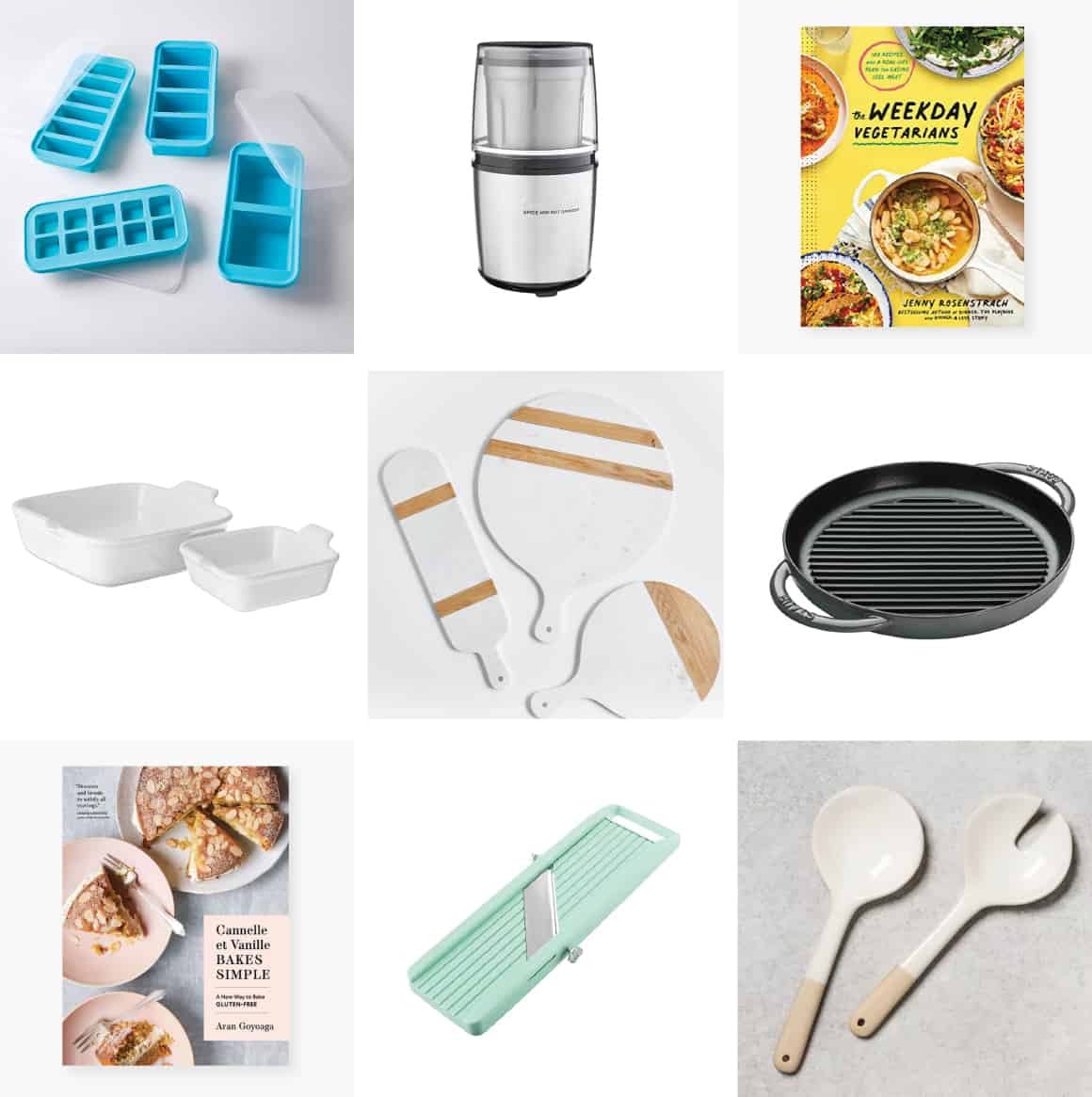 Souper Cubes
For that person who always has a stash of soup in their freezer! I love that these cubes make it convenient to thaw a single portion at a time.
Spice Grinder
If you know a savvy cook who's ready to take their kitchen skills to the next level, a spice grinder could be a great gift for them. They'll be able to experiment with making home-ground spice blends, which are far more flavorful than most store-bought ones. I highly recommend getting this spice grinder because it's so easy to clean.
Weekday Vegetarians by Jenny Rosenstrach
Interested in eating less meat? Don't know where to start? Weekday Vegetarians lays out a plan that's approachable and fun. It's also packed with crave-worthy recipes that will win over any meat eater – Crispy Smoky Tofu Sandwiches, a jaw-dropping Mushroom Leek Galette, Pizza Salad with White Beans, and more.
Le Creuset Ceramic Square Baking Dishes
Essential pieces you'll have forever! These pans are perfect for making snack cakes and cornbread, baked pastas, fruit crisps, casseroles, and more.
Marble & Wood Platters
I can never have too many serving platters in different sizes and shapes! Maybe someone you know can't either?
Staub Grill Pan
The next best thing to grilling outside! This cast-iron pan holds heat well and chars food nicely.
Cannelle et Vanille Bakes Simple by Aran Goyoga
Aran writes the most beautiful gluten-free recipes! Her new book is all about gluten-free baking, and it would be an amazing gift for any baker, gluten-free or not. The photos are gorgeous, and the recipes are mouthwatering. Double Melting Chocolate Cookies? Honeyed Apple Pie? Yes, please!
Mandoline Slicer
If you know someone who loves cooking with vegetables, they'll get so much use out of a mandoline. It's perfect for cutting veggies into paper-thin slices, which are ideal for all sorts of salads, slaws, and pickles.
Ceramic Salad Tongs
Long salad tongs drive me crazy! You set them down, they fall over, and salad flies everywhere. The size and shape of these smaller tongs are perfect for tossing and serving.
This post contains affiliate links.