Looking for the best food in Austin for SXSW, F1, or Austin City Limits? This food guide will show you the best spots in Austin, from a local!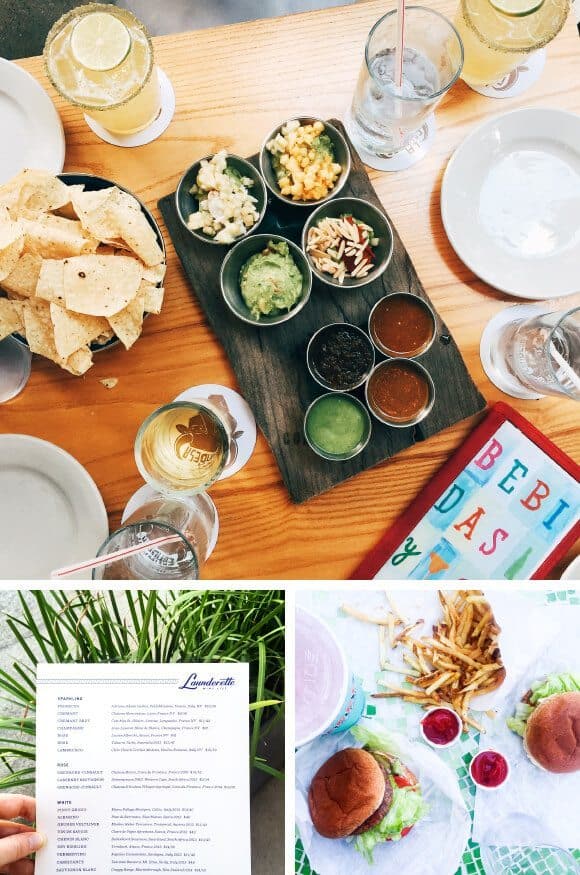 Whether you're heading to Austin for South by Southwest or ACL (or just for fun!), here's a list of some of my personal favorite food recommendations. These are sorted by neighborhood:
Near Downtown:
La Condessa – my favorite mexican food & best guacamole
Josephine House – pretty spot, good wine, dinner, brunch
flagship Whole Foods – the Disneyland of Whole Foods-es
SFC Downtown Farmers Market – Saturdays 9am to 1pm
Snap Kitchen – for a quick & healthy meal to go. (vegan, gf, paleo options)
South Lamar Area:
Juiceland – veggie juices & smoothies
Henri's – tiny neighborhood spot – great food, cheese & wine
East Side King – Paul Qui's food trucks (although this one's not a truck)
Ramen Tatsu-ya – come hungry, vegan options
P Terry's – it's like Austin's In-N-Out Burger
Odd Duck – Texas farm-to-table, lunch, brunch or dinner
Uchi – yep, there's good sushi in Texas
Casa De Luz – vegan, macrobiotic, hippie & healing
Lick Ice Cream – local ingredients, vegan options (try the vegan vanilla pear)
House Wine – hidden wine gem, half-price wines on Sundays
South 1st Area:
Bouldin Creek Cafe – vegetarian, vegan, fun, cheap
Thai Fresh – casual Thai, coffee, vegan & gf desserts
Elizabeth St. Cafe – vietnamese cute cafe that I frequent often
Sway – upscale Thai but so good, love their patio
Dolce Neve Gelato – best gelato in Austin, owned by two cute Italians
Seventh Flag Coffee – good coffee, cute space
Lenoir – 3 course local & seasonal menu (with veggie options!)
(also check out Metier Cook's Supply, next to Lenoir)
South Congress:
Hopdoddy – skip Shake Shack and go here (unless the line is long)
South Congress Cafe – get the migas or carrot cake french toast for brunch
Perla's – mostly seafood, great vegetable sides, my favorite patio
San Jose Hotel – favorite patio for drinks
Joe's Coffee – favorite spot to people watch
North:
Taco Deli – everyone has their pick for best tacos – this is mine
Peached Tortilla – one of my favorite trucks, turned restaurant
Olamaie – southern food but delicious vegetable dishes too
East:
Veracruz All Natural – the 2nd place you should go for tacos.
Launderette – farm to table, chic vibe, love having dinner here
Justine's – french food, near the airport – our fave late night post-flight bite
East Side Show Room – a favorite for cocktails (& cool decor)
Whistlers – for cocktails, late night bite from Thai Khun

If you have favorites that I have missed, feel free to leave them in the comments!
All photos taken from my Instagram account. Follow along to see where we're currently eating!