A mix of healthy sweet and savory treats - Carrot Quinoa Oatmeal Cookies, Vegan Soft Baked Pretzels, & Apple Cinnamon Muffins, to name a few!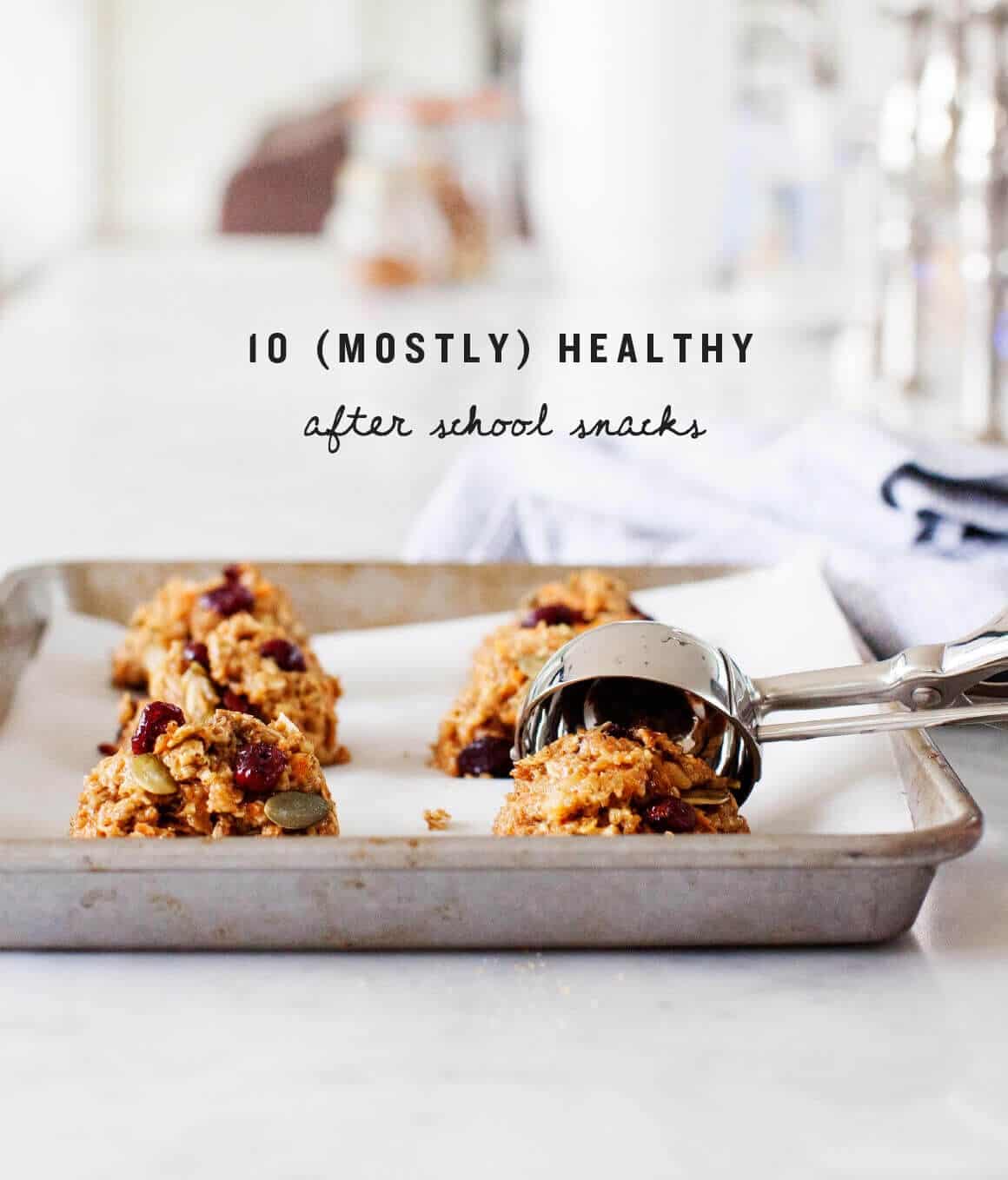 It's been awhile since I've been to school, but that doesn't mean that I don't appreciate a good 3pm snack. Here are some of my favorite fall treats – for little kids and big kids alike. (Click on the recipe name or the photo itself to go to each recipe)
Carrot Quinoa Oatmeal Breakfast Cookies (pictured above)
A reader favorite – these cookies are packed with so many wholesome ingredients that it's ok to eat for breakfast… or as a snack any time of the day. Tip: they also freeze well.
What kid wouldn't love coming home to homemade soft baked pretzels? This recipe is also husband approved because, well, my husband Jack was the one who came up with it.
White Bean Dill Dip & Spinach Hemp Seed Pesto
Two of my favorite veggie dips – these are also wonderful as sandwich spreads.
Healthy Apple Cinnamon Muffins
Everyone loves pumpkin in the fall, but these warm cinnamon-spiced muffins filled with big apple chunks are my personal favorite. One (or two) of these with a chai latte = fall afternoon perfection.
No-Bake Almond Butter Oatmeal Bites
These are my go-to snack anytime of the year because they're quick, easy, and I usually have the ingredients on hand in my pantry.
Crostini sounds fancy for a kid's treat, but figs are in season and these are so easy to put together. For the big (adult-age) kids, serve these with wine.
Vegan Raspberry Coconut Scones
These little guys are not only vegan, but they're gluten free using oats and coconut flour. Last spring we first made these with raspberries, but for fall I'm going to try a version with currants and dried figs.
Any time is a good time for a smoothie. Here are combinations for every color – let your kid pick their favorite!
It's that time of the year! Break out your cans of pumpkin and make everything pumpkin, starting with this sweet, soft pumpkin loaf.
I love this version of corn muffins that uses pumpkin in the batter. These are lightly sweet, moist and fluffy – perfect with a bowl of butternut squash chili.