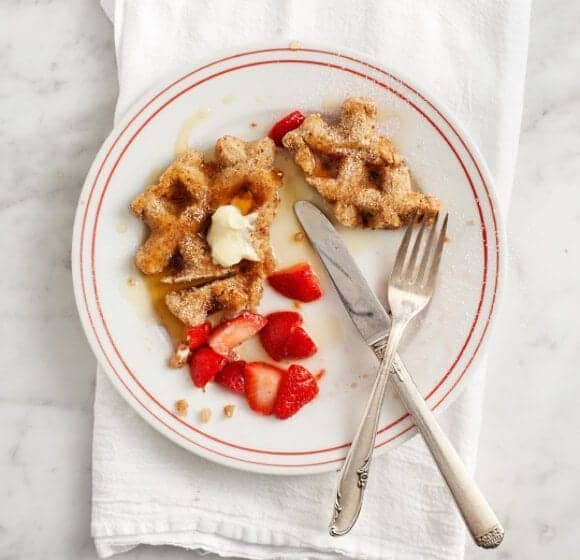 Admittedly, I'm not the best at baby showers. I forget that the point of a baby shower is the gift-showering part, and I usually show up with an amazon print-out of what I purchased off the registry that morning. (really, I mean well). So this is my kind of baby shower… the virtual kind where I make and eat waffles and snap a photo. No pink bows required.
Melissa (of The Faux Martha) is a dear friend I've met through the blogosphere. Her beautiful blog is filled with delectable sweet treats and her waffle recipe is one of her signatures. When I met her in person last January, I remember she kept talking about how much she craved waffles. I hadn't met anyone who was so passionate about waffles… but hey, as a fellow food blogger, I understand these fixations. Of course, it made complete sense when a week later she announced she was pregnant!
This is a spin on Melissa's waffle recipe, using ingredients I had on hand… which of course isn't normal ingredients like wheat flour and butter, but instead – coconut oil, spelt flour, millet flour and flax seed. They're super delicious – a little crispy on the outside, but still soft in the middle. And I love mine with berries and doused with good maple syrup.
Happy baby shower day Melissa! xoxo