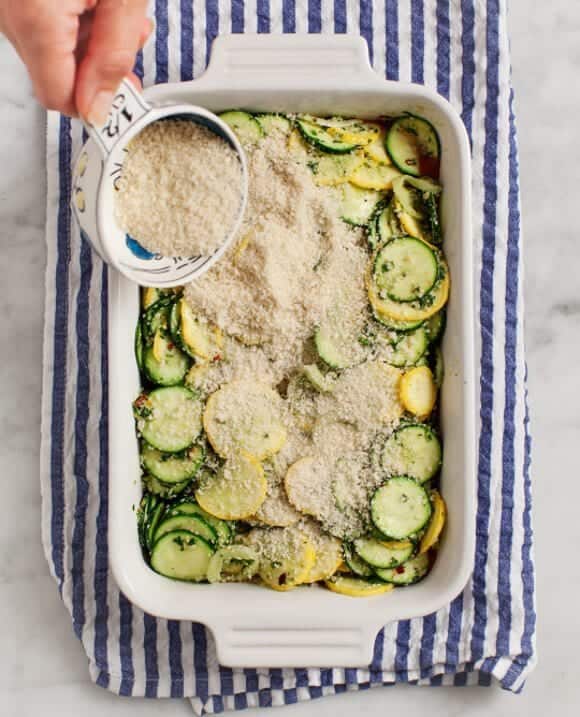 And the zucchini blogging continues…
This has been one of my go-to dishes this summer (or at least a few variations of it). Like many recipes, this started out more complicated – each time I made it, it became more and more simple. This, (my favorite version!) is all about the zucchini & summer squash… and it uses up lots of it. The concept is simple – toss squash with pesto, top it with panko, and then bake it until it's lightly crisp on top.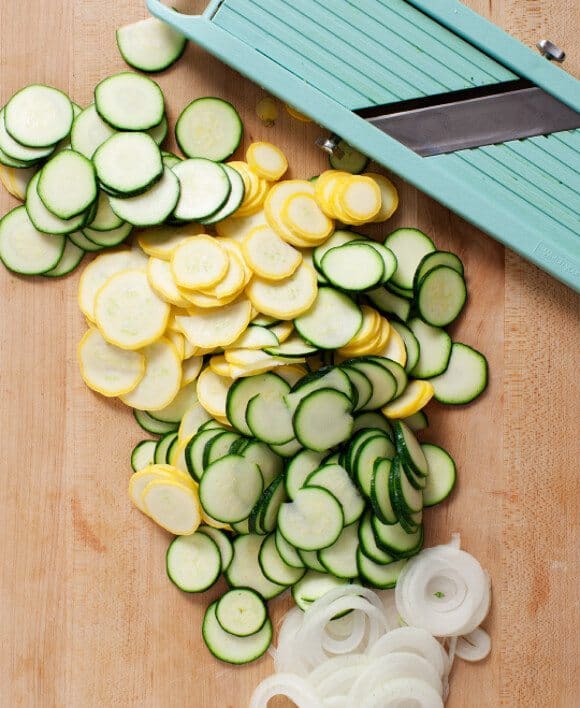 It starts with lots and lots of thinly sliced zucchini. This is a good time to break out your mandoline if you have one.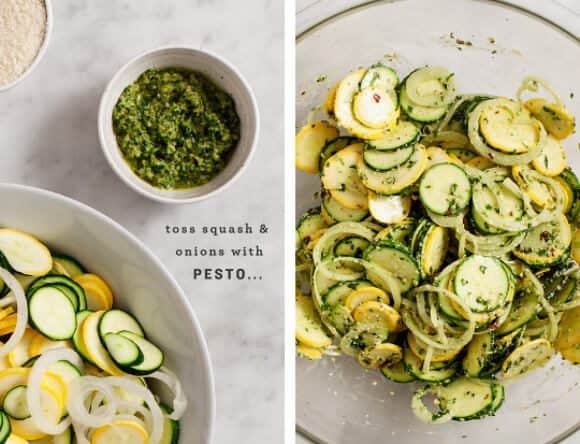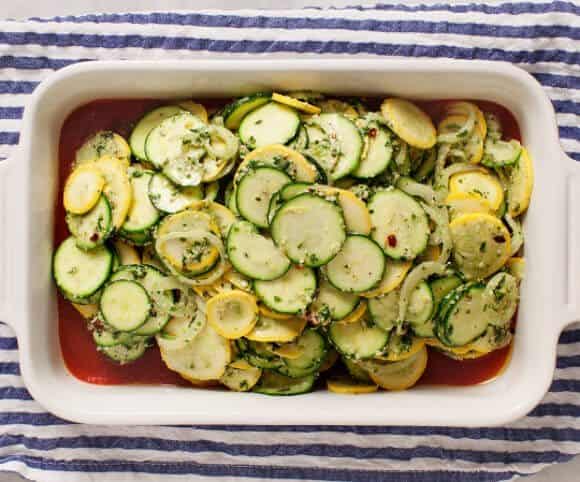 I put a layer of plain tomato sauce on the bottom, and topped it all with panko and parmesan. Aside from the topping, it's almost vegan and almost gluten free. (See recipe notes for a few adaptations). Bake it until it's nice and crispy.
This is more of a side dish than a one-pan dinner, but it's super tasty with some grilled fish or whatever sort of protein you like.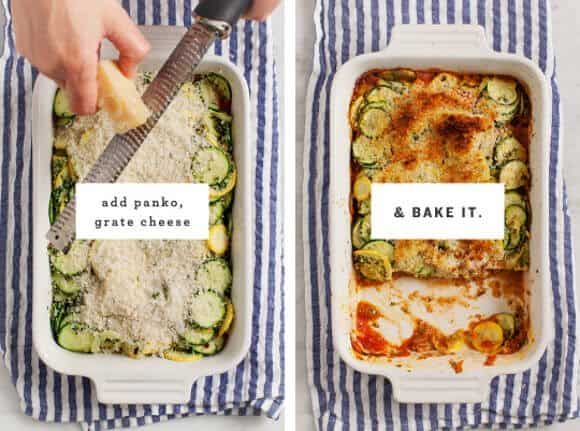 crispy pesto baked zucchini
Serves:
serves about 3 as a side
Ingredients
about 4 cups thinly sliced yellow & zucchini squash
½ cup sliced yellow onion
½ cup pesto
½ cup plain canned tomato sauce
⅓ cup panko bread crumbs
¼ cup grated parmesan cheese
drizzle of olive oil
pesto:
¼ cup pine nuts or hemp seeds, toasted a little
1 small garlic clove
juice & zest of 1 small lemon
pinch of red pepper flakes
a huge handful of basil
3-4 tablespoons olive oil
salt & pepper, to taste
Instructions
Preheat oven to 375 degrees F.
Thinly slice your squash (use a mandoline, if you have one) and set it aside on a towel so some of the moisture dries out while you prep everything else. Slice your onion and set aside.
Make the pesto by pulsing the nuts, garlic, lemon, and a pinch of red pepper flakes in a food processor. Add basil, pulse again. Then drizzle in the olive oil and pulse again. You want a chunky pesto for this dish. Taste and adjust seasonings, adding salt and pepper to taste.
Brush a 9x12-inch baking dish with a little bit of olive oil, then coat the bottom with ½ cup tomato sauce. Add all of the pesto-ed squash and spread it into one even layer.
Add panko, parmesan, a drizzle of olive oil and a few red pepper flakes. Bake until the zucchini is tender (but not mushy) and the top is crispy and lightly browned - about 25 minutes. (You can turn your broiler on for the last few minutes to help the crispy topping along).
Remove from oven and let it cool & set for at least 20 minutes before slicing.
Notes
Make this vegan by omitting the cheese on top.

Make this gluten free by omitting the panko (or get gluten free panko)

(note: omitting either will make the topping a bit less crispy)