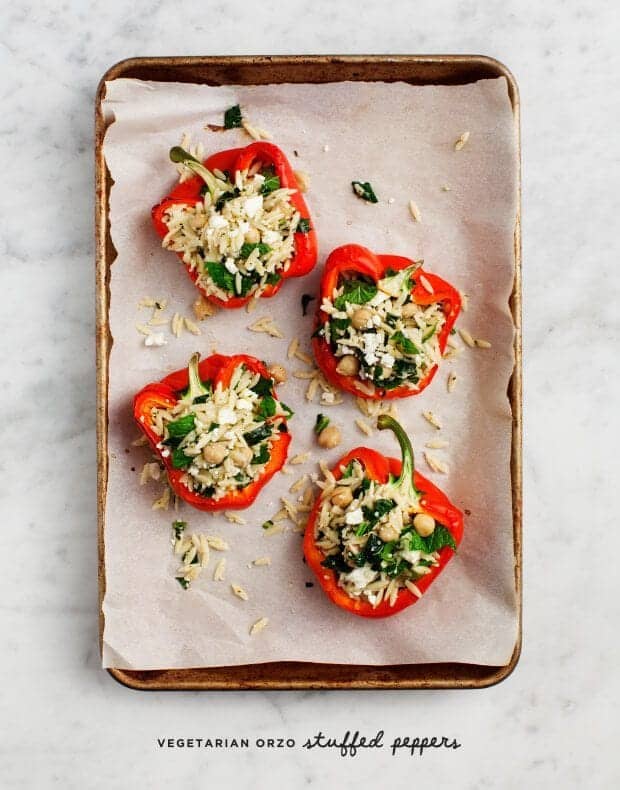 Stuffed peppers are one of my go-to summer vegetarian dinners. They're so easy that when I posted this pic on instagram last week, I got tons of emails asking for the fully measured recipe. Ask and you shall receive, so here it is. But don't let the measurements fool you – feel free to eyeball your ingredients if you don't feel like breaking out the measuring cups. This recipe is simple, forgiving and very customizable.
Don't have orzo? Use couscous. Gluten free? use millet or quinoa. Don't have mint? Try basil, oregano, or other herbs and spices you like. I put some chopped up kale in mine, but you can try roasted broccoli or zucchini instead. Don't have red peppers? Well then go find another recipe! (kidding: you can use Anaheims, poblanos, or any mild stuff-able pepper).
You have two options for baking these. The first is to fill your peppers, smother them with cheese and bake until the cheese bubbles on top. The second is a lighter version (pictured); I skip the melty cheese but roast the peppers fully before filling them so that the orzo filling doesn't dry out in the oven.