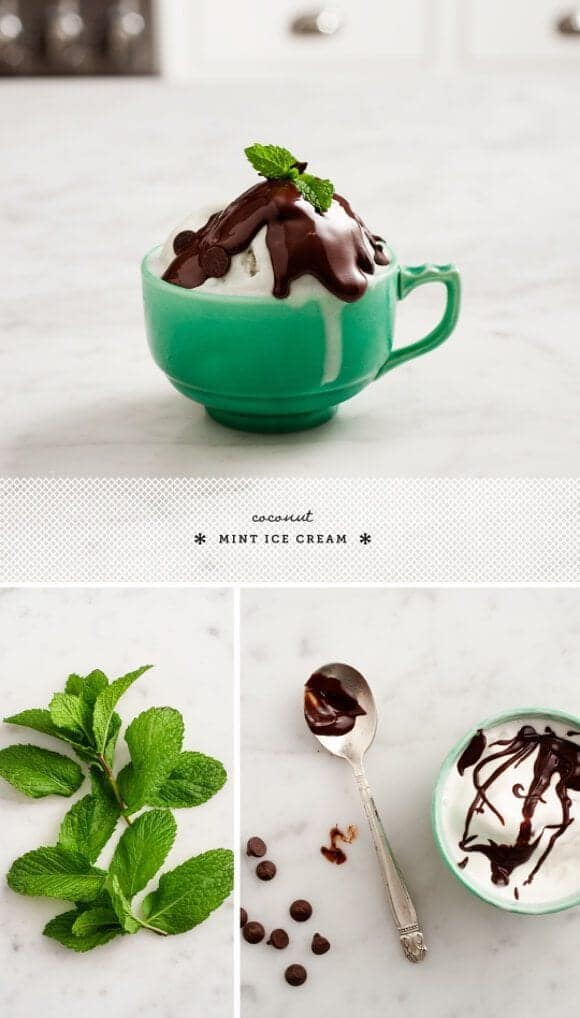 Let me start by saying that mint chocolate chip has never been my top choice. It's always been my sister's favorite, I was more of a cookies & cream kind of girl. But this blog makes me try things I might have otherwise not… For example, I bought turnips the other day at the farmers market just because they looked cute. When I saw this green mug, I craved just one thing: Mint ice cream.
To my surprise (and Jack's too), mint ice cream made with fresh mint is amazing! It's a completely different ice cream flavor altogether. First off, it's white, not green. The green from the mint doesn't really rub off and there's, of course, no food coloring in here. The flavor is so fresh and springy… It tastes like I picked a bunch of mint from the yard and made ice cream out of it. (which is what I did).
It's made with coconut milk, because that's just the way we do ice cream around here.
I also whisked together this chocolate sauce using dark baking chocolate, coconut oil and a bit of agave syrup. As a happy accident… it's vegan magic shell.