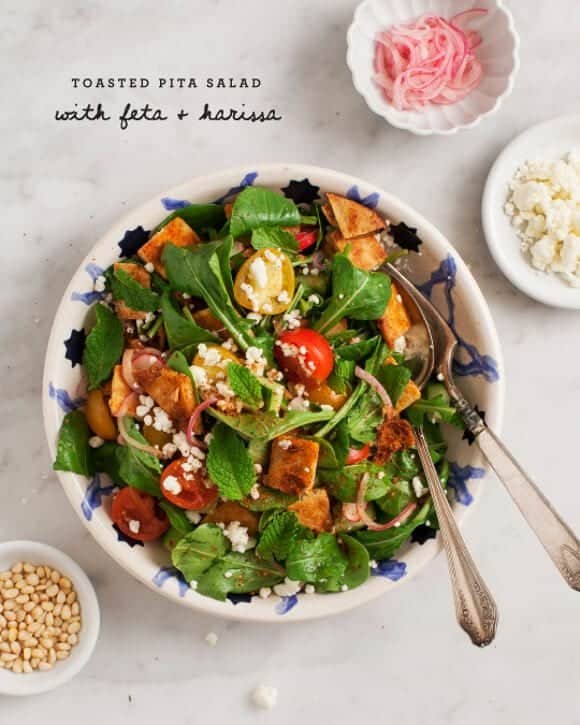 I have a confession to make: I'm obsessed with feta cheese. Growing up, my mom used to make spanakopita, (carefully wrapped phillo dough triangles stuffed with spinach and feta), every year for my birthday – it was my favorite thing and that tangy creamy flavor is still one of my fondest food memories.
Of course, that's a lot of work to do for every day meals, so nowadays I get my feta fix on salads. That tangy salty bite has a way of turning on-hand ingredients into tasty cohesive meals. Sweet potato and pomegranate, watermelon and avocado, strawberries and quinoa, check check check.
One ingredient we happened to have on-hand recently was stale pita bread. I've made plenty of panzanella salads with stale bread, but I just love fattoush and all of its crispy flatbread goodness. Fattoush is a middle eastern bread salad made with toasted day-old pita, tomatoes, cucumbers, feta and sumac. Sumac turned out to be a difficult ingredient to source so I subbed in some spicy & smoky (dried) harissa instead. So here we have: fattoush-ish.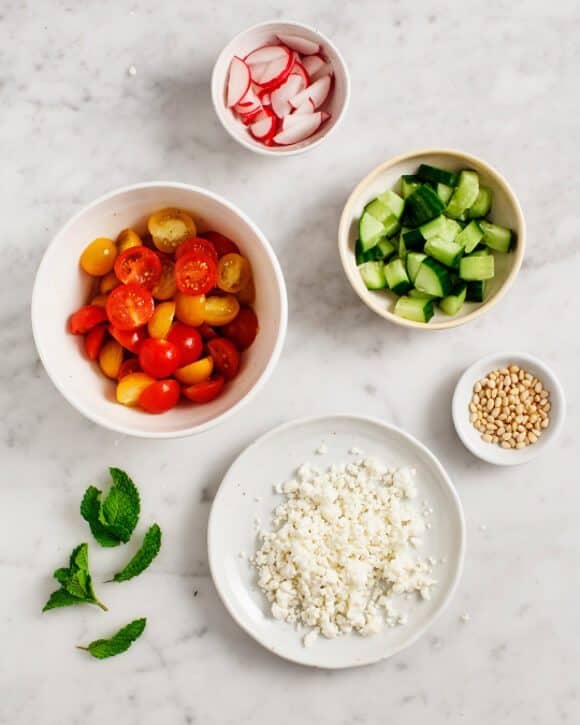 In a small bowl drizzle sliced sweet cherry tomatoes with a little bit of sherry vinegar, olive oil, salt and pepper. (This becomes so flavorful and juicy that making a separate salad dressing isn't necessary).
Cut up the stale pita into small chips, drizzle it with olive oil, harissa spice and salt, and toss it in the oven until it's golden brown and toasty. Set them aside and try not to eat them all as you assemble the rest of the salad. (or if you have snack-y family members like I do – toast some extra pita so you'll have plenty left for the salad).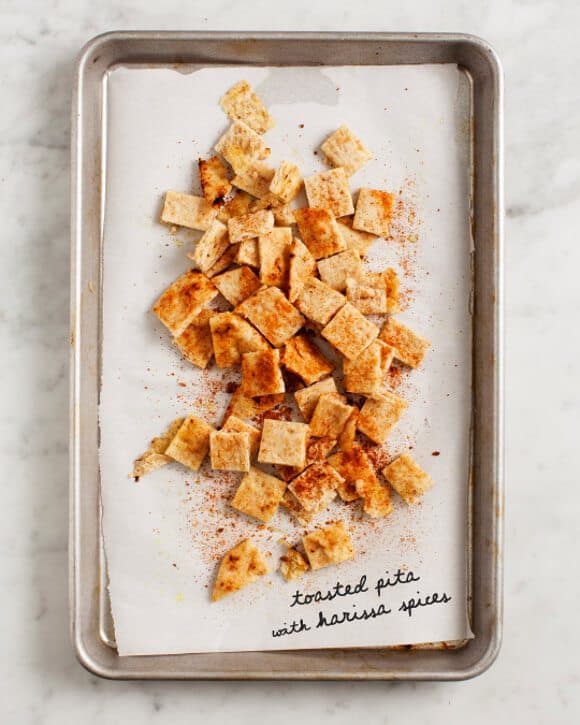 Toss the whole thing with peppery arugula, crispy chopped cucumbers and then – the special part – two types of cheese – Président Feta Crumbles which are tart and salty, and Valbreso Sheeps Milk Feta, which is creamy and rich, yet delicate.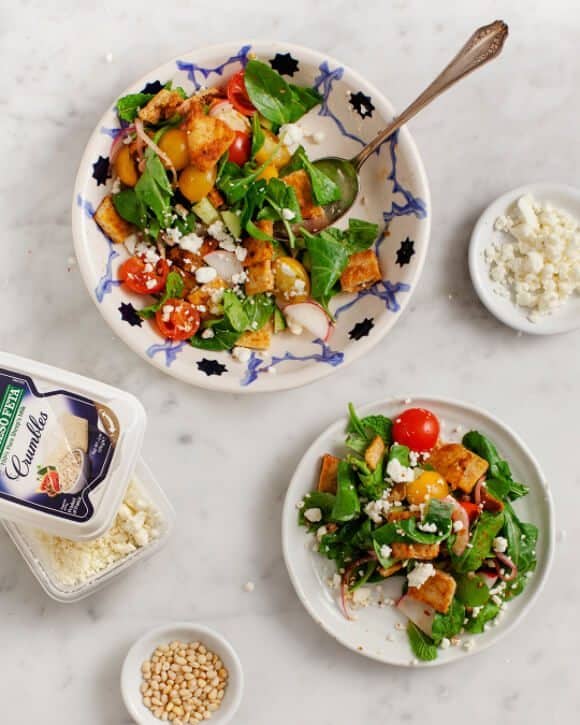 Toss it all together so the juices of the tomato soak into the toasty pita. Sprinkle on more harissa, a few mint leaves, and – of course – serve with extra feta.
Win $50 worth of Président cheese. Visit ArtOfCheese.com to download a coupon and enter the Pinterest sweepstakes.
toasted pita, feta & harissa salad
Ingredients
2-3 whole wheat pitas
a few tablespoons olive oil
a few teaspoons dried harissa
1 cup cherry tomatoes, sliced in half
½ tablespoon sherry vinegar
2 cups arugula
1 medium cucumber, diced
3 radishes, sliced thin
¼ cup pickled red onions (see below)
¼ cup pine nuts
handful of mint leaves
salt & pepper and more harissa, to taste
quick pickled onions: (this will make extra)
1 small red onion
white wine vinegar (enough to fill a jar of onions)
a few pinches of cane sugar and salt
Instructions
Preheat oven to 350 degrees.
Slice pitas into 1 inch pieces. Toss with 1 teaspoon olive oil, salt, pepper, and dried harissa spice. Bake in the oven until golden brown and toasted, about 10-15 minutes.
Place sliced tomatoes in a small bowl along with a drizzle of olive oil, sherry vinegar (about ½ tablespoon each), and a generous amount of salt and pepper. Let this sit at room temp for about 20 minutes, while you assemble the other ingredients.
Assemble the salad with arugula, diced cucumber, sliced radishes, pickled onions, feta cheeses, tomatoes, toasted pita, pine nuts and mint. Add more harissa to taste.
*Quick pickled onions: thinly slice onion and place in a small jar. Cover with white wine vinegar and a few pinches of cane sugar and salt. Chill for at least 1 hour or overnight. Store any extra in the fridge, they'll be good for at least a few weeks.
Notes
(I use the Whole Foods brand bottled Harissa spice).
This post is sponsored by Président Cheese. Thank you for supporting the sponsors that keep us cooking!