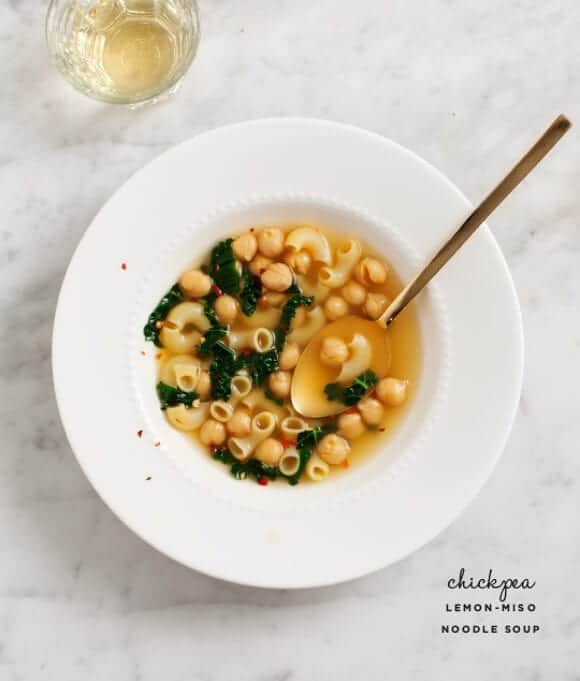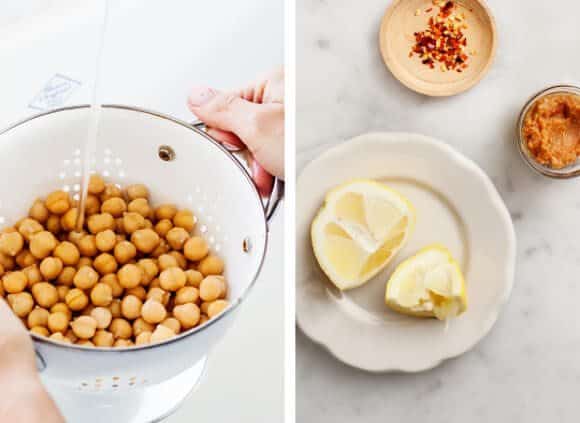 They say to feed a cold right?
I don't get sick very often, but this week I've been a little bit down for the count. It's not the worse thing ever – it's just lingering… and it's also hungry. Lately, I've been craving foods that are hot, cold, and, well, salty (you know, so I can actually taste things).
My scratchy throat and I were on Pinterest the other day and we were inspired by this soup and also this one. I read somewhere that garlic, lemon, and steam help to cure coughs and colds so this broth-y soup fit the bill. I didn't want cheese to be necessary for depth of flavor so I thought I'd use miso instead, which – bonus – is also healing. (I did add a little bit of pecorino at the end for extra rich saltiness but it's very optional).
A perfect simple soup for the soul… also quite tasty for lunch the next day. I'm sure this one will be a keeper even when I'm feeling a bit better.
chickpea lemon miso noodle soup
Ingredients
1T olive oil
1 shallot, chopped
3 cloves garlic, minced
a few pinches of red pepper flakes
4 cups vegetable broth + 1 cup water
1.5 cups cooked & drained chickpeas (1 can)
½ cup (uncooked) quinoa elbow pasta
2 cups chopped kale
big squeeze(s) of lemon
2 tablespoons white or shiro miso + a few tablespoons warm water
optional - grating of pecorino cheese
salt, pepper, to taste
Instructions
Heat oil in a medium sized pot over low heat. Add the chopped shallot and garlic, a pinch of salt. Cook for a few minutes until they slowly become translucent. Stir in a few pinches of red chile flakes.
Add the broth and water and simmer for 20-30 minutes.
Optional step: (for a very clear soup) strain out the shallot & garlic pieces.
Add the chickpeas, pasta, kale and cook until the noodles are tender and cooked through. Reduce heat to low.
In a small bowl, whisk the miso with a few tablespoons warm water until the miso is incorporated and not clumpy.
Add a big squeeze of lemon to the soup. Gradually stir in half the miso-water. Taste and decide how much more you want to add depending on how salty you like your soup. Continue balancing the flavors to your liking - add more lemon, a grating of pecorino, salt, and/or pepper to your liking.
Serve hot with crusty bread.
Inspired by Flourishing Foodie and Martha Stewart.