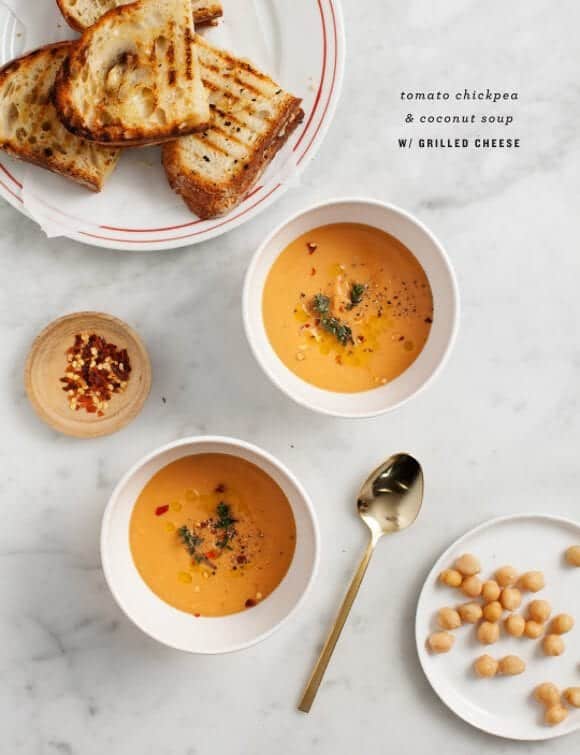 This is the perfect pantry soup. I'm even betting that most of you have these ingredients on hand already. We're all about fresh eating around here, but there's nothing wrong with opening up a few cans from time to time… especially in the middle of winter when you crave tomato soup and tomatoes are not in season.
The soup is basically: 1 can of tomatoes, 1 can of chickpeas, and (part of) 1 can of coconut milk. The chickpeas thicken the soup and the coconut creates a creamy, velvety texture without adding real cream. For a lighter soup, you can use light coconut milk or—get this!—the leftover watery milk from the can after you've made coconut cream.
Of course no tomato soup would be complete without grilled cheese. I'm sure you don't need a recipe… a good simple grilled cheese is really about good ingredient choices. At the moment I'm particularly fond of this combo: Sourdough from Easy Tiger, Champagne Cheddar from Whole Foods, with a spread of my favorite dijon mustard and a drizzle of balsamic vinegar. (sub Daiya cheese if I'm feeling vegan-ish). Grill on a cast iron grill pan. Dunk in soup.

tomato chickpea & coconut soup
Serves:
serves 4 as a side
Ingredients
1 tablespoon olive oil or coconut oil
1 small yellow onion (or half of a large one), chopped
2 big garlic cloves, no need to chop
1 teaspoon sweet or smoked paprika (or combo of both)
salt, pepper
splash of balsamic or sherry vinegar (1 tablespoon or so)
1 14-oz. can of diced tomatoes, with their juice
a few pinches of sugar (optional)
fresh thyme - leaves from 2-3 sprigs, & extra for garnish
1 cup cooked chickpeas (rinsed, drained), plus extra to add at the end
1 cup coconut milk, full fat or light
1.5 cups water
optional (for a richer soup): ¼ cup parmesan cheese or vegan nutritional yeast
red chile flakes & a drizzle of olive oil for garnish
Instructions
Heat oil in a medium pot. Add the onion, garlic a few pinches of salt and pepper, and cook until the onion is translucent. Add the paprika(s) and cook until fragrant (30 seconds or so). Add a good splash of balsamic vinegar and stir. Add the tomatoes, sugar and thyme leaves. Stir, then add the chickpeas, coconut milk and water. Cover and gently simmer for 20-30 minutes. Uncover and let cool slightly.
Transfer to a blender and puree. Taste and adjust seasonings. Add the cheese (only if you want to), and additional water to thin the soup, if necessary.
Add additional whole chickpeas and top bowls with extra thyme leaves, red chile flakes and a drizzle of olive oil.
Serve with grilled cheese sandwiches for dunking, and extra balsamic on the side.
Notes
This soup tastes better the longer it sits (especially the next day)… so this would be a great one to make in advance.

If you don't like coconut, use heavy cream in place of the coconut milk.

If you don't have fresh thyme you can add dried thyme (or oregano) leaves, just add less (1/2 teaspoon or so).