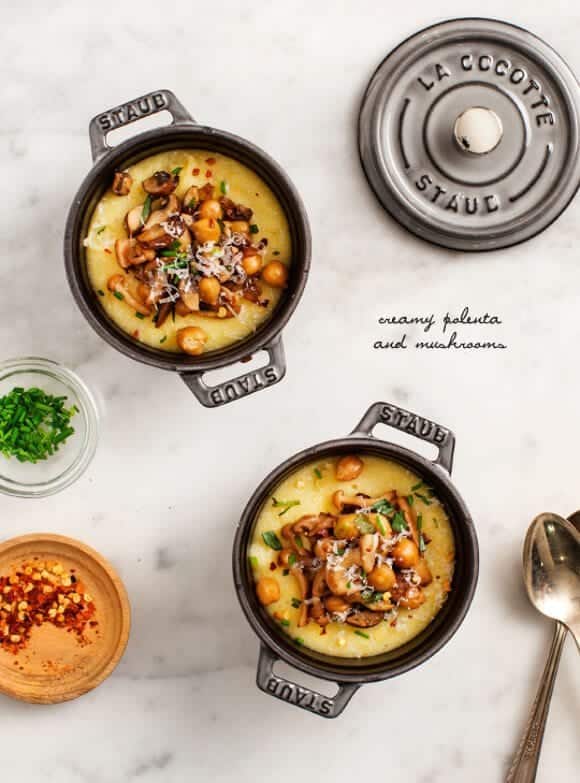 I'm short for words today… we're in Chicago visiting my family this week, and I'm making a point to spend less time in front of the computer. Sometimes it's just time to put the electronics away… to cut the habit of looking at your iphone every few minutes and relax a bit, you know?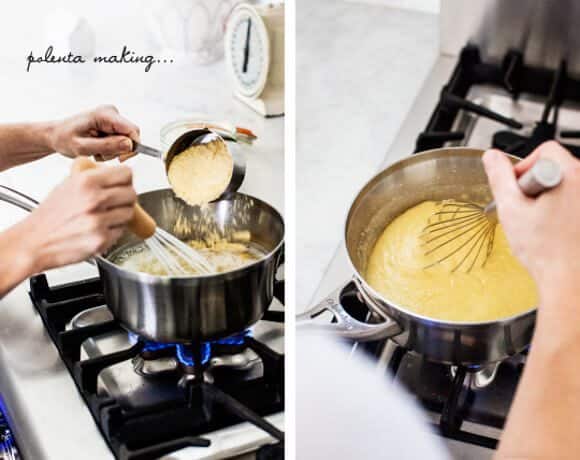 We made this warm and cozy meal last week with one of our favorite foods – mushrooms. It's pretty simple… creamy polenta, chickpeas and a mix of sauteéd mushrooms & tarragon. They have these fancy ones right now at Whole Foods that are amazing, and more importantly – on sale. I just loved combining the texture of the oyster mushrooms with the tiny shimejis (and a few lesser expensive cremini's to get more bang for my mushroom buck).
Topped these with just a bit of asiago cheese and popped them under the broiler for just a few minutes. A warm yet bright meal… pretty much the opposite of what it looks like outside the window here right now. Brr.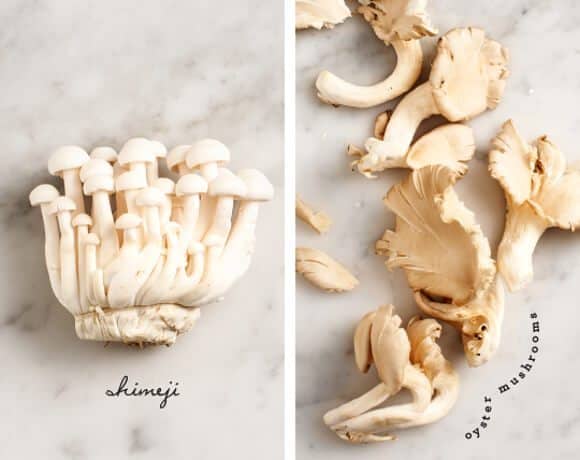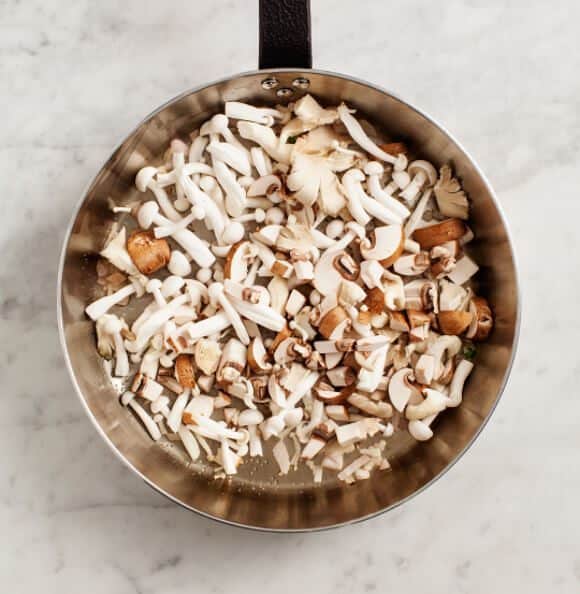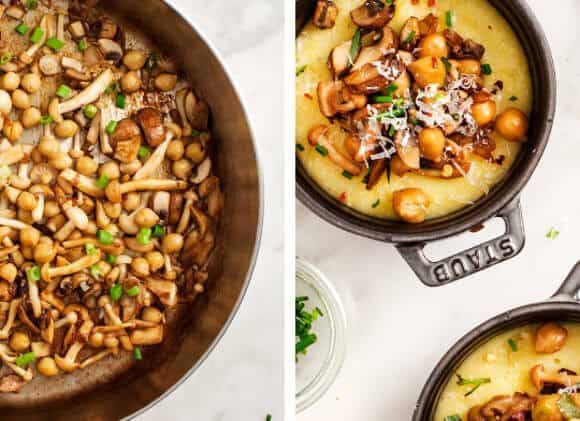 creamy polenta & mushrooms
Serves:
I filled 6 mini-ramekins as side dishes. Recipe serves about 3 as a main course.
Ingredients
for the polenta:
1 cup polenta
3 cups water
1 clove garlic, minced
1 tablespoon olive oil
1 tablespoon butter (or vegan earth balance)
¼ cup grated asiago cheese (optional), plus extra to go on top
salt, pepper
for the mushrooms:
1 tablespoon olive oil
1 shallot, chopped
3 cups mixed mushrooms, (whatever kinds you like) coarsely chopped
½ cup chickpeas, cooked & drained
½ tablespoon soy sauce
2 tablespoons sherry vinegar
¼ cup chopped fresh tarragon
¼ cup chopped chives
salt, pepper
Instructions
Make the polenta: Bring 3 cups of water to a boil with a few big pinches of salt. Gradually add the polenta while whisking. Continue whisking for a few minutes until smooth & not lumpy.
Continue cooking the polenta for 20-30 minutes, whisking often.
Turn heat off, whisk in the garlic, olive oil, butter, salt, pepper & cheese. Taste and adjust seasonings. Set aside.
Cook the mushrooms: In a large skillet, heat olive oil. Add mushrooms and a few pinches of salt. Let the mushrooms cook for a few minutes, then add the chickpeas and the soy sauce.
Cook until golden brown (8-10 minutes or so), stirring only occasionally.
Add the sherry vinegar, stir, and let cook for 30 seconds or a minute longer.
Remove from heat, stir in tarragon and chives. Taste and adjust seasonings.
(A very optional step - make a quick pan sauce by pouring a glug of white wine into the still-warm pan the mushrooms cooked in. Let it bubble up and cook off for a few seconds and add a little pat of butter. Stir that into the finished mushrooms or pour over the final dish)
Scoop the polenta into ramekins and top with the mushrooms & chickpeas.
optional step - top with a little bit more grated cheese and place under the broiler for a few minutes until bubbly.
Notes
Feel free to serve in bowls or plates, the
individual cocottes
are cute but not completely necessary.
A note about polenta - I used the
Bob's Red Mill
brand but I ground it in a coffee grinder to make the polenta more smooth and less course. If you use it right out of the bag, it's a little grittier... which is still fine and tasty if you're after that texture.
Pictured above: Staub Mini Cocottes in Graphite Grey
This post is sponsored by Whole Foods, thank you for supporting the sponsors that support Love & Lemons.