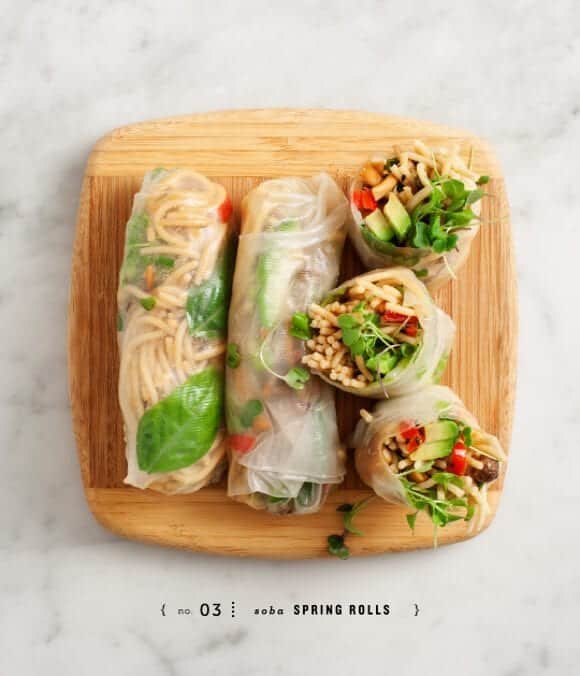 This recipe is a continuation of yesterday's post… aka. my version of cooking once and eating 3 times. Adding some slight variations each time. These spring rolls are what you make with your leftover noodles when you have barely any left. A little goes a long way to filling these things up.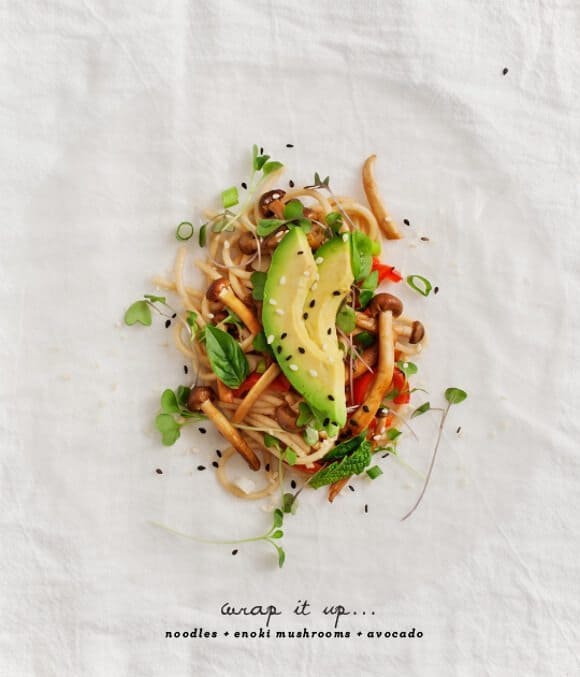 Cook a few mushrooms, slice an avocado, and add some herbs or greens. I would usually make a peanut sauce for dipping but there's no need for that here because peanut-y goodness is already in the noodles. Serve with some ponzu or light soy sauce and enjoy.
peanut soba spring rolls
Ingredients
leftover peanut noodles
vietnamese rice spring roll wrappers
mushrooms
basil & mint
avocado slices
ponzu for dipping (or ½ soy sauce, ½ rice vinegar)
Instructions
Cook the mushrooms by heating a skillet to medium. Add a little bit of oil, then the mushrooms. Cook until browned and soft. Remove from heat, add a little soy sauce, and let them cool to room temp.
Wrap ingredients in spring roll rice wrappers. 1. One at a time, dip rice papers into warm water for 5 seconds. 2. Remove and place on a clean towel. 3. Place ingredients in the center (horizontally), wrap & tuck the sides, then the bottom flap, and then carefully tuck and roll until closed. Serve with ponzu for dipping.
Notes
I like
these wrappers
. You can find them at whole foods or any asian market.
this post was originally created for Refinery 29