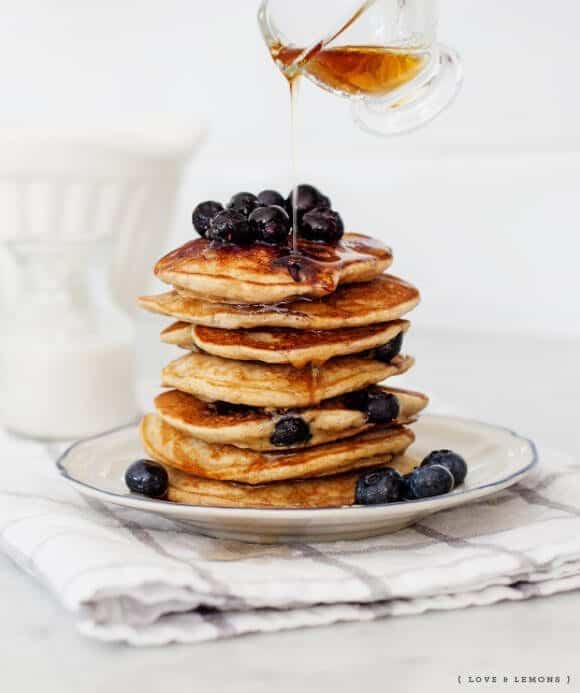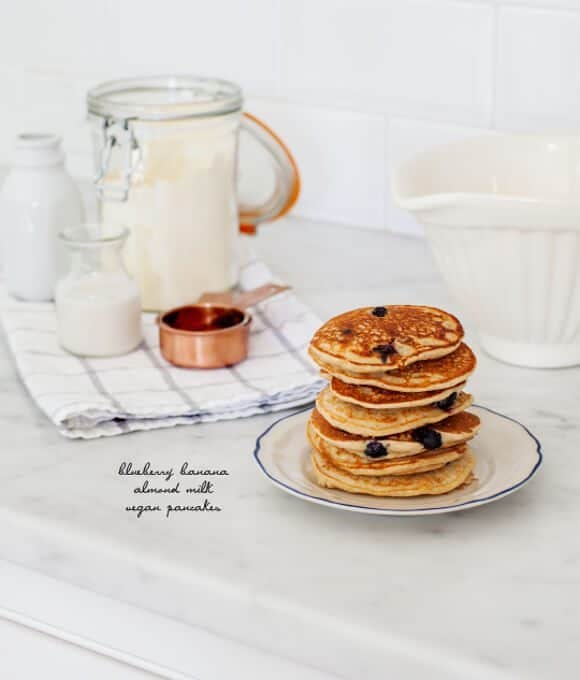 This is my very first pancake post. I either feel late to the game, or like I'm earning some right of blog passage. The truth is, I'd gone the last few years not eating pancakes. Let me back up. I spent a lot of years eating a LOT of pancakes… pancakes for dinner, late nights at Denny's, the whole bit. This all added up to a number of post-college pancake pounds, and the easiest thing for me to do was cut out the temptation altogether.
But that's all behind us now. I mean, you won't find me eating pancakes at International Houses of them, but lighter at-home ones made with bananas and packed with berries? Yes please.
These are vegan and gluten free. The banana here is the linchpin, so you won't want to sub that out. But feel free to use whatever berries you have in season.
blueberry banana pancakes
Serves:
makes 6-8 small pancakes (serves 2)
Ingredients
1 ripe banana
⅔ cup original Almond Breeze Almond Milk
1 teaspoon vanilla
¾ cup flour (I used half gluten free all-purpose, half millet flour), or 1 cup regular all-purpose flour
1 teaspoon baking powder
½ teaspoon cinnamon
⅛ teaspoon salt
¼ cup blueberries (to go inside the pancakes)
a few teaspoons coconut oil, for the pan
maple syrup, for serving
blueberry topping:
¼ cup blueberries + a drizzle of maple syrup + tiny pinch of salt
Instructions
In a small food processor, puree the banana with the almond milk and vanilla. (or mash it really well by hand - you want it pretty liquified).
In a separate medium sized bowl, mix together the dry ingredients. Pour the banana/milk mixture into the dry ingredients and stir until just combined. Gently stir in the blueberries.
Heat a few teaspoons of coconut oil in a large skillet over medium heat. Using a ¼ cup measuring cup, scoop the pancake batter into the pan. Flip when bubbles form in the batter (about 1 minute). Let the second side cook for about 30-60 seconds and remove from heat. (check the first one to make sure it's done in the middle, if not, you may need to reduce heat to low and let it cook a little bit longer).
For the blueberry topping, place blueberries in a small bowl with a little bit of maple syrup. Microwave for 20-30 seconds or until they burst a little.
Serve pancakes warm with blueberry sauce and maple syrup.
Notes
You could use vanilla Almond Breeze and cut back a little on the vanilla extract.

A note about flours: gluten free flour is more dense, so I use less of it than regular flour. I've been using a combo of bob's red mill gluten free all purpose, and millet flour. Gluten free oat flour would also work here.