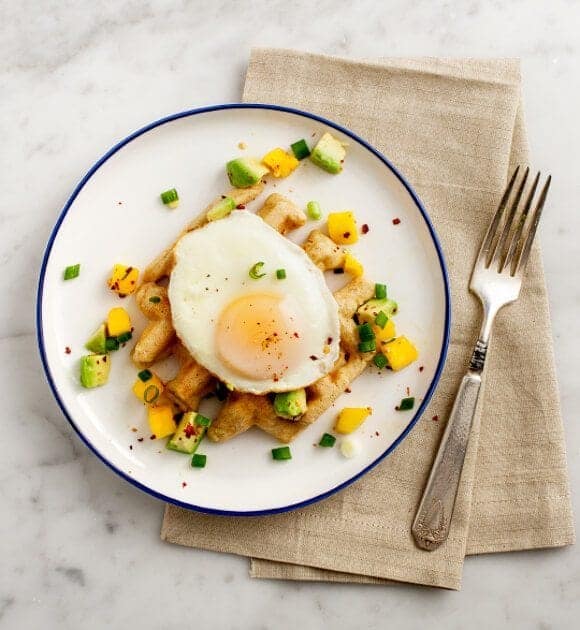 Happy Friday! This one makes me so happy that the weekend is just about here…
This is part 1 of a fun project I've been working on with the Mango Board as part of their "Mangover" campaign. (makeover + mangoes, get it?) It's about simply adding mango to ordinary food for an unexpected pop of color & tangy sweetness. Once a week they're asking their facebook fans for meal ideas they would like to see made over with mango. This week (breakfast week), the choice was waffles and eggs.
So I made a quick mango salsa with avocado, smoked paprika and a pinch of chili flakes. Topped it on a savory waffle and added a fried egg. A sweet & spicy breakfast.
If making waffles AND eggs sounds like too much work for you on a Sunday morning… you could do this same concept with toast. Think–smashed avocado toast, just add mango. (plus a squeeze of lime & salt). And maybe a fried egg.
fried egg & mango salsa waffle
Ingredients
smoky mango avocado salsa:

1 medium mango, peeled, pitted and diced.
1 small avocado, peeled, pitted and diced.
1 lime, juiced (about 2 tablespoons of fresh lime juice)
2 scallions, chopped
1/4 - 1/2 teaspoon ground smoked paprika
pinch of red chili flakes
1/4 teaspoon salt

for the waffles:

1/4 cup sweet rice flour
1/4 cup brown rice flour
1/2 cup oat flour
**(flour note: or just use 1 cup all-purpose)
2 teaspoons baking powder
1 tablespoon sugar
1 teaspoon chili powder (optional)
1/2 teaspoon salt
3/4 cup almond milk (or regular milk)
2 tablespoons ground flax seed + 3 tablespoons extra milk (or 1 egg)
3 tablespoons melted coconut oil, or butter

for the fried eggs:

4 eggs for frying
1/2 teaspoon olive oil or butter
a pinch of salt and pepper
Instructions
In a small glass bowl mix together the diced mango, avocado, lime juice, scallions, smoked paprika, red chili flakes and salt. Taste and adjust seasonings. Chill until ready to serve.
Preheat your waffle iron to the #4 setting (or depending on your iron, one of the higher settings)
In medium bowl, whisk together flour, baking powder, sugar, chili powder and salt. In a small separate bowl, whisk together the milk, flax (or egg) and coconut oil. Then mix the wet and dry ingredients together. Immediately pour the batter into your preheated waffle iron and remove when your iron beeps, or when they're crispy. This batter is enough to make about 4 square waffles, depending on the size of your waffle iron, your yield may vary.
Heat oil in a large skillet over medium-low heat. Crack 4 eggs into the skillet and cook until whites are set but the yolks are still runny. About 4-5 minutes. (You may need to cook 2 eggs at a time, depending on the size of your pan).
Assemble by spreading a touch of butter on each waffle, then top with a spoonful of mango-avocado salsa and the fried egg. Add a pinch of salt and pepper on the top of each egg.
Notes
Store leftover waffles in the freezer and pop them in the toaster to reheat.
http://www.loveandlemons.com/2013/05/17/mango-salsa-waffle/
This post was created in partnership with The National Mango Board, all opinions are my own.