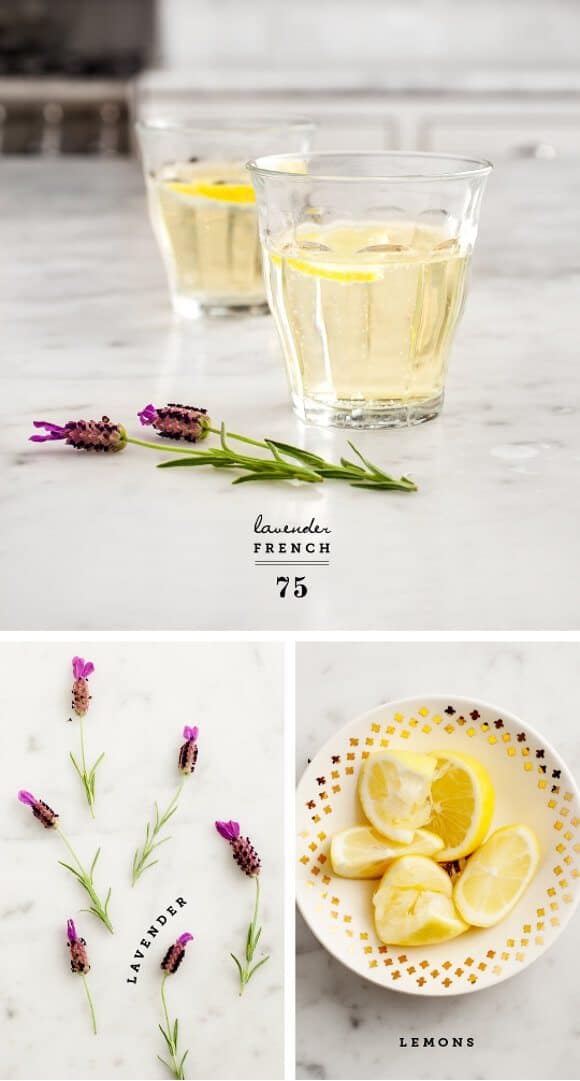 The French 75 is hands down my favorite cocktail, and this lavender version is just so lovely for spring.
I snipped these little lavender flowers from my garden and simmered them down into a simple syrup. Which sounds sort of romantic except that this lavender plant was swarming with scary bees. I held a pair of scissors at arms length and carefully tried to clip a few without getting too close. (oh, the things I do for this blog!) 
The lavender flavor is subtle, but I just love the unexpected herbal hint.
I hope you all have a great weekend and find some time to enjoy a sip with a loved one. After such a scary week, I know I'm holding mine extra close (the loved ones, that is…)
If you don't have access to lavender flowers, you can buy the syrup readymade here or here.
Ingredients
2-4 teaspoons lavender syrup, to taste
4 tablespoons gin
squeeze of lemon, to taste
4 tablespoons champagne
ice, if you're ingredients aren't already chilled
optional: sub sparkling water for champagne for a lighter cocktail

lavender simple syrup:

about 5-7 little fresh lavender flowers
1/2 cup sugar
1/2 cup water
Instructions
In a small saucepan, bring the ingredients for the lavender syrup to a boil. Reduce heat and simmer for about 5 minutes or until the sugar dissolves. Stir as needed to keep the sugar from sticking to the bottom of the pan.
Transfer to a glass jar and let chill in the fridge. Strain out the lavender after 30-60 minutes and continue to let it chill. Store leftovers in the refrigerator for up to a week.
Mix all cocktail ingredients together & stir. Taste and adjust to your liking.
Notes
note: since the concentration of your lavender syrup may vary, I found that the best way to "measure" this was to pour just enough syrup until I could taste the floral note. (about 2 splashes)
http://www.loveandlemons.com/2013/04/20/lavender-french-75/
adapted from Serious Eats.