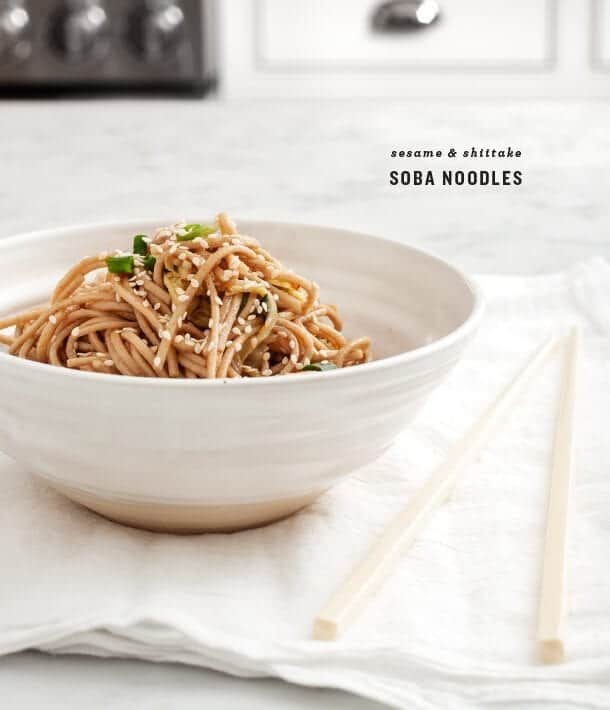 I first made this cold soba a few weeks ago with this meal, and I've made it again and again over the last few weeks, for easy dinners and on-hand lunches.
The flavors here are pretty simple. Toasted sesame oil and soy sauce lightly coat the noodles without covering up the nutty flavor of the soba itself. And a few good splashes of rice vinegar really brighten it up.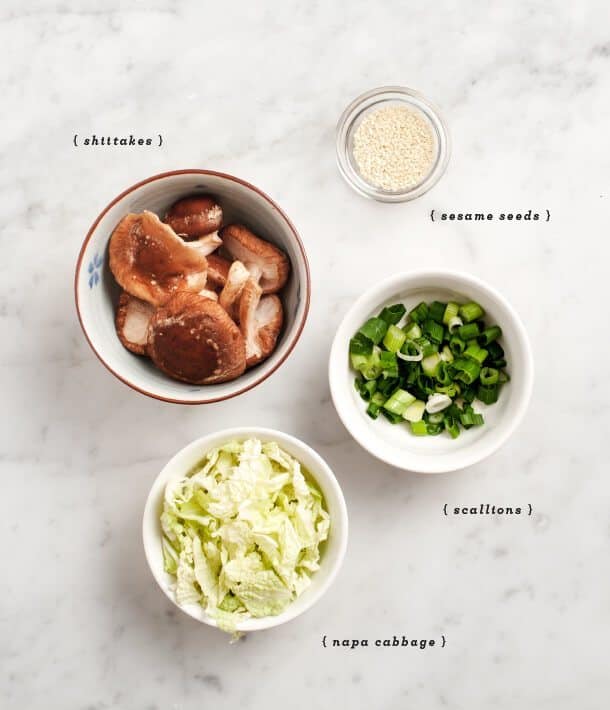 I quickly cooked some shiitakes & cabbage, but you could just as easily use whatever seasonal vegetables you have on hand. (I think cucumbers would be great here in the summertime).
Make it a larger meal by tossing some seared tuna (or tofu) on top… or make it a lighter lunch by mixing in a handful of salad greens.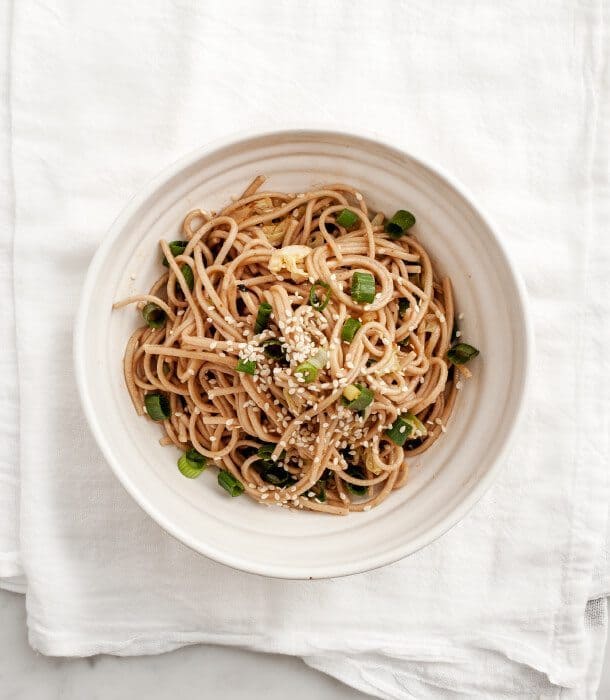 serves 2 as a main, 4 as a side
INGREDIENTS:
4-6 ounces soba noodles
1 tablespoon toasted sesame oil
splash of olive oil or vegetable oil for the pan (you don't want to heat sesame oil)
1 cup sliced shiitake mushrooms
2 cloves of garlic
2 cups raw shredded napa cabbage
1/2 cup chopped scallions
good splash of soy sauce (start with about a tablespoon, add more if necessary)
1-2 teaspoons of mirin (optional)
good splash of rice vinegar (a few tablespoons)
a teaspoon or so of sriracha (optional)
a few tablespoons sesame seeds for garnish
METHOD:
Cook the soba noodles in salted boiling water for about 8-12 minutes, or until they're done but still al dente.
When soba noodles are done, rinse under cold water. Drain well and transfer to a large bowl. Toss the noodles with a tablespoon of sesame oil and chill the noodles in the fridge. The sesame oil will keep them from becoming gummy.
Meanwhile, in a large skillet heat the olive oil. Add shiitake mushrooms and cook, stirring occasionally until they begin to wilt down. Add garlic, cabbage, half the scallions and soy sauce and cook for another few minutes. Add the mirin to deglaze and cook until everything is soft. Remove from heat and set aside to cool for a few minutes.
Toss the veggies with the soba noodles and the rest of the scallions.
Add a good splash of rice vinegar and some sriracha. Taste and add more soy sauce and rice vinegar to your liking. (I tend to go a little heavy handed on the rice vinegar).
Serve at room temp, or chill until ready to serve. Top with sesame seeds.
Store in the fridge in an airtight container for up to a few days.