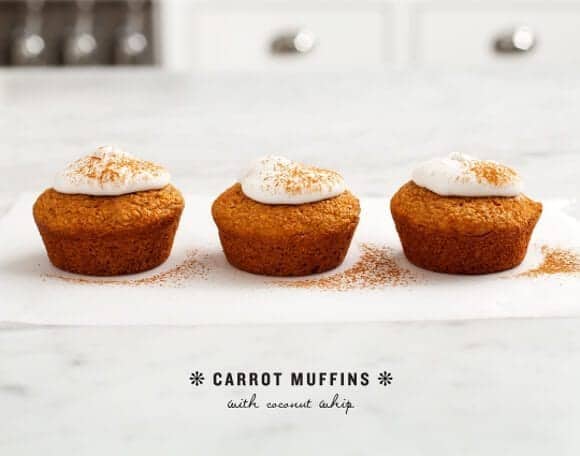 Spring is in the air (at least, here in Austin it is), and I've been getting non-stop carrots in my Farmhouse Delivery box. Which means one thing to us… carrot cake. This time, in muffin form.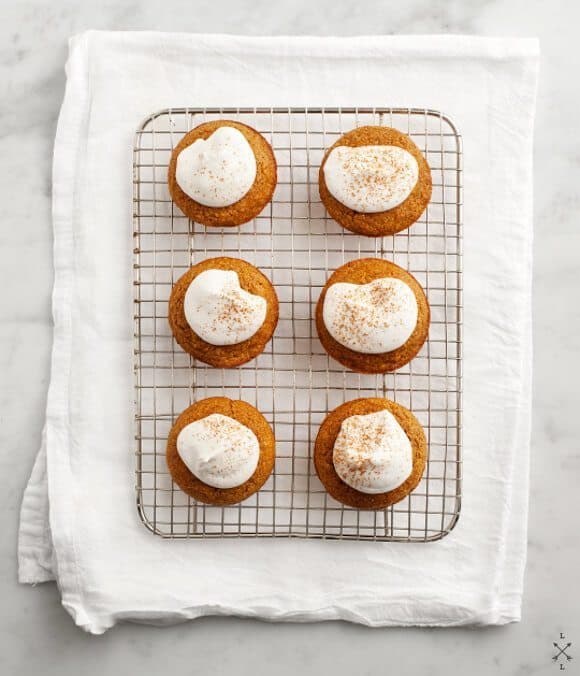 I topped these with coconut whip lightly sweetened with maple syrup. It's airy, yet creamy… much less indulgent than a more traditional cream cheese frosting, but it was exactly what I was in the mood for this time. With a dusting of cinnamon on top.
CARROT MUFFINS:
makes 10 muffins
8 oz. carrots (chopped and peeled)
1 egg
1/3 cup sugar
1/4 cup applesauce
1/2 teaspoon vanilla extract
1/4 cup coconut oil
1/2 cup all purpose gluten free blend (or all purpose flour)
1/2 cup whole spelt flour (or oat or whole wheat flour)
1 teaspoon baking powder
1/2 teaspoon baking soda
2 teaspoons cinnamon
1/2 teaspoon salt
Preheat oven to 350 degrees and grease a muffin tin.
Place carrots in food processor and pulse a few times until they are grated. Add in the egg, sugar, applesauce, vanilla and coconut oil and blend until combined.
In a separate bowl, sift & mix together together all dry ingredients (flours, baking powder, baking soda, cinnamon and salt).
Pour wet ingredients into the dry and gently fold together. Don't over mix.
Scoop batter into the greased muffin tin – approx 1/3 cup batter per muffin.
Bake for 15-18 minutes, use a toothpick to check for doneness. Don't over bake.
Let cool completely before frosting.

COCONUT WHIP:
- can of full fat coconut milk, refrigerated upside down (overnight)
- a few tablespoons of maple syrup or powdered sugar
Open the coconut milk and scoop the thick solidified part off the top. (save the rest for another use). Whisk vigorously by hand (or in a mixer). Add maple syrup or powdered sugar to make it as sweet as you prefer.
Spoon a dollop on each muffin and sprinkle with a dusting of cinnamon.
optional step: add a drizzle of maple syrup on top.
or for cream cheese frosting, see this recipe