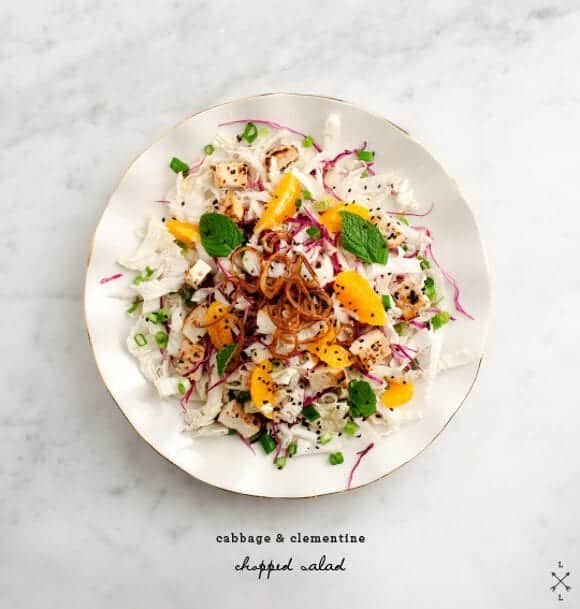 I've gotten over a major food fear recently. It sounds weird to say, but I haven't eaten oranges (or fruits from the orange family) for about a year and a half. I know, it's about the weirdest aversion to have. People in general like oranges. And I did too, until I had a certain unfortunate food experience while on vacation in Morocco.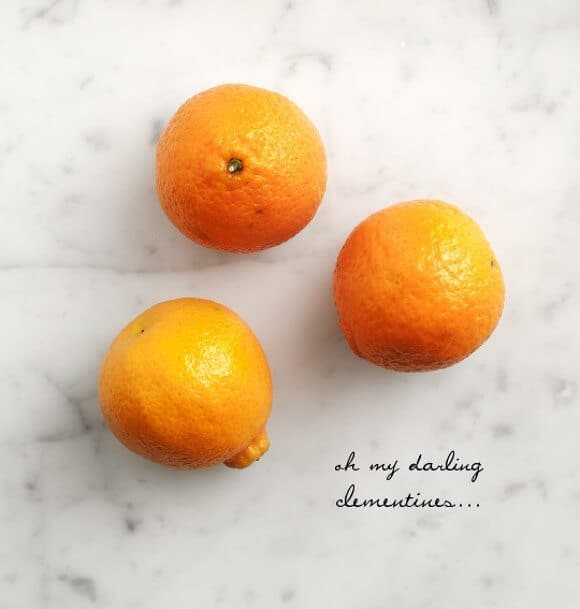 Coming home, I figured I wouldn't look at an orange for maybe a few months… then a year and a half went by and I still had no good reason to confront them. Last month I was invited to guest taste at Whole Foods' Citrus Showdown event, where 2 local chefs prepared dishes with satsumas and clementines.
I went, I ate, and I survived. It's funny how these little hangups are all just in your mind.
While on my little orange sabbatical, one thing I really missed were crunchy chopped asian salads with little fried shallots on top. Similar to a Chinese chicken salad (sans the chicken), I made mine with a miso-citrus dressing and topped it with some chopped sesame tofu and these darling clementines. Perfect thing to brighten up a cold winter day.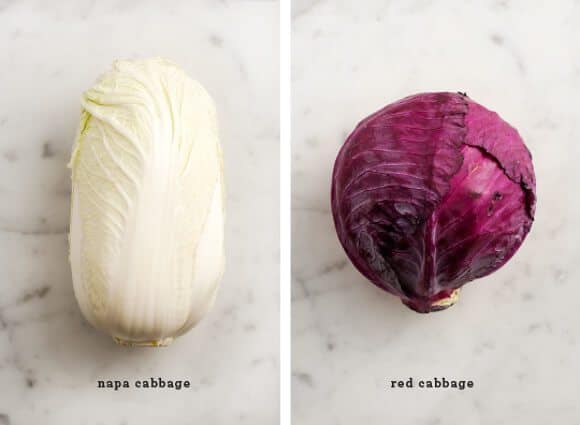 Special thanks to Whole Foods for sponsoring this post.
serves 2-3 as a meal, 4 as a side dish
CLEMENTINE & CABBAGE SALAD
1 small napa cabbage, chopped into thin slices (about 2 cups)
a portion of a small red cabbage, sliced very thin (about 1 cup)
3-4 scallions, white and green parts, chopped (about 1/2 cup)
3-4 clementines, segmented (squeeze excess juice into the dressing)
a few sprigs of mint
sesame seeds, for garnish
1/2 cup fried shallots (recipe below)
chopped sesame tofu (recipe below)
Miso-Citrus Dressing:
3 tablespoons freshly squeezed clementine juice
2 tablespoons white miso paste
2 tablespoons rice vinegar
1 tablespoons honey (or agave, if vegan)
1 tablespoon sesame oil
splash of sriracha
whisk together, taste and adjust seasonings.
Marinated Tofu:
1 block of tofu, sliced into about 8 slices
splash of soy sauce
splash of rice vinegar
splash of toasted sesame oil
sesame seeds & panko bread crumbs (panko optional) for the outside of the tofu
Slice your tofu and gently pat it with a clean towel to dab up some of the excess water.
In an 8×8 square baking pan (with edges), mix together the soy sauce, rice vinegar, and sesame oil. Place the tofu slabs into the pan and flip them so you coat both sides. Set aside and let it marinate while you finish everything else (15-20 minutes or so).
After it's marinated, sprinkle both sides of each with some sesame seeds and some panko bread crumbs. Heat a large skillet with some olive oil. When the oil is hot, cook tofu for 2-3 minutes per side. Let cool to room temp and chop into small cubes for the salad.
Fried Shallots:
2-3 medium shallots, thinly sliced
vegetable oil
flour, for coating
After you slice your shallots, pat them dry with a clean towel. Toss shallots in a bit of flour. Heat a medium skillet with about 1/2 inch of oil. When the oil is hot, drop one slice in. If it bubbles you're ready to toss in the rest. If it burns, turn the heat down on your oil and test another. Fry the shallots for about 7-8 seconds each, remove and place on a plate with a paper towel to dry.
Assemble the salad:
Toss everything (except the fried shallots and tofu) together with most of the dressing. This one is best if you let it sit in the fridge for 10 minutes or so before serving. Taste & adjust, adding more dressing and adjusting seasonings to your liking. Top with the chopped tofu and crispy fried shallots.