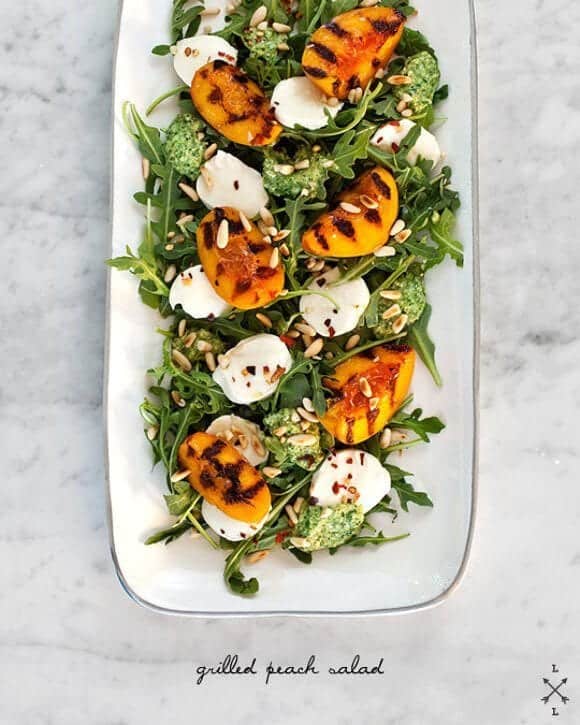 I've been a peach purist until this summer. Peaches and cream, cobblers, and peach cakes have never been my thing. Plain ripe peaches with sticky hands and peach juice running down my elbows is more like it… so why mess with a good thing? Because it turns out that sometimes good things can be made even better.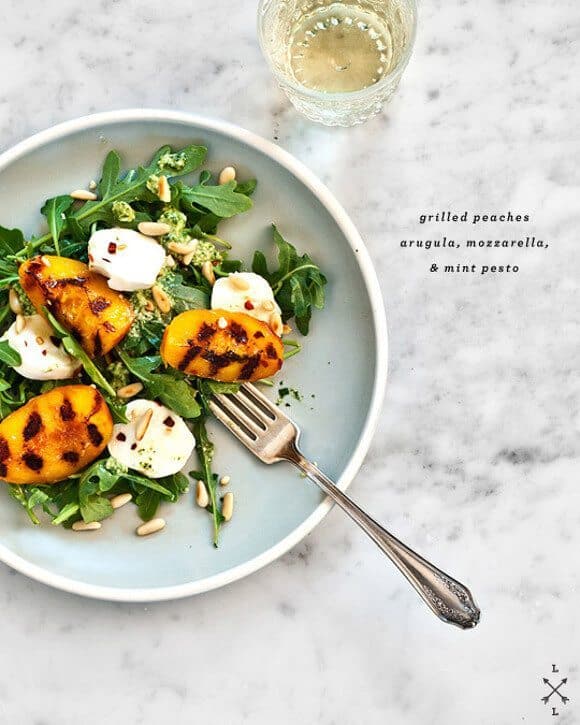 The natural caramelized sweetness that comes out of these peaches straight off the grill is to die for. Paired with contrasting tastes and textures – spicy arugula, creamy fresh mozzarella, crunchy pine nuts, and herb-y pesto… complete perfection. This one has moved to the top of my list for favorite summertime dishes. It's simple enough to put together for a light weeknight meal, but fancy enough to serve as a starter at your next dinner party… It's sure to impress even your snobbiest of foodie friends.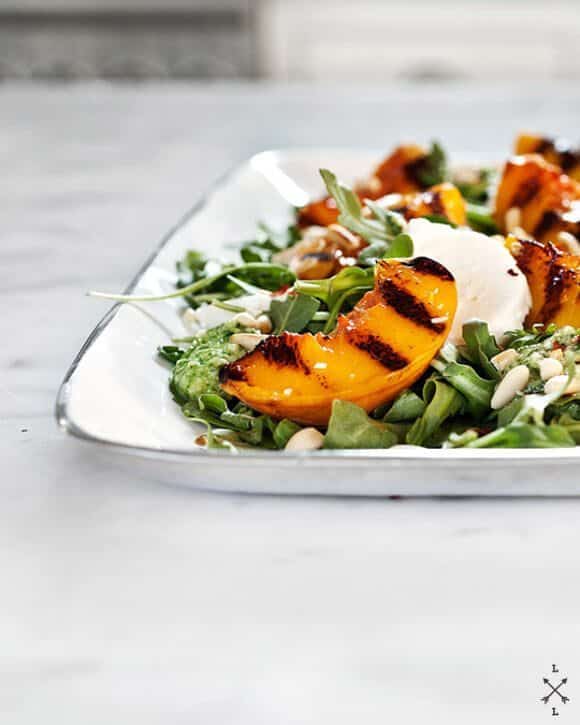 serves 2 as a main course salad, 4 as a side
INGREDIENTS:
2 firm, yet ripe peaches
2 teaspoons olive oil
1 teaspoon balsamic vinegar
2 cups baby arugula
fresh mozzarella, sliced
a few dollops of pesto
2 tablespoons pine nuts, toasted and chopped (in addition to the pine nuts for the pesto)
salt & pepper
mint & basil pesto:
1 packed cup of a mix of mint & basil
1/4 cup pine nuts, toasted (you could also use walnuts instead)
1/2 garlic clove, roughly chopped
juice and zest from 1/2 a lemon
1/4 cup olive oil (or more)
a few pinches of red pepper flakes
salt & pepper
METHOD:
Slice the peaches into 6 segments per peach. In a small bowl, toss peaches with olive oil, balsamic, and just a small pinch of salt.
Heat your grill (or grill pan) to medium high heat and brush it with some oil. Place the peach slices on the hot grill and cook each side for 2-3 minutes without moving them (near the end you can gently peek to see how your grill marks are coming along). When your peaches are grilled, set aside and allow them to cool to room temperature.
Meanwhile make the pesto. Combine all ingredients in a small food processor and pulse to combine. Add more oil for a smoother pesto, or leave it chunky – whichever consistency you prefer.
Toss the arugula with just a little bit of olive oil and a few pinches of salt. Assemble on a platter and top with mozzarella slices, peaches, dollops of pesto, and a few pinches of red pepper flakes. Squeeze just a bit of lemon on top and serve.
A few notes about grilling peaches: They will pick up the flavors of what you previously grilled on your grill. Depending on what that was, you may want to clean your grill well before beginning. Secondly, I experimented with 2 different grill pans – a cast iron (seasoned) grill pan and a nonstick grill pan. The nonstick one created "prettier" grill marks because the peaches stuck less. The seasoned cast iron pan imparted a hint of zucchini flavor from a previous dinner (that was surprisingly not awful tasting). Both ways, the peaches tasted wonderful.