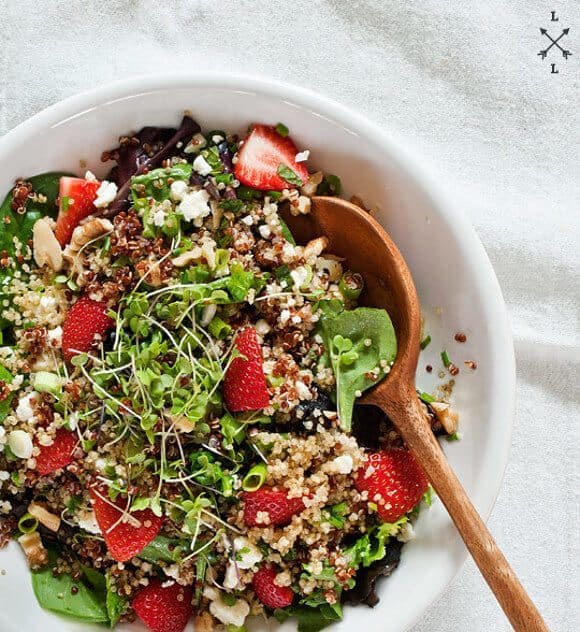 I'm excited to be guest posting at Anthology Magazine this month with a 4-part summer salad series! If you can't tell by now, I live on salads all summer long so I'm excited to share some of my favorites. First up, today, is this savory-with-a punch-of-sweet, strawberry & feta quinoa salad.

Strawberry quinoa & feta salad
Ingredients
1 1/2 c cooked quinoa (3/4 c uncooked, plus 1 1/2 c water)
3/4 c sliced strawberries (about 5-6 large strawberries)
1/2 c chopped or crumbled feta
1/4 c chopped mint
1/4 c chopped scallions (green and white parts)
1/3 c chopped walnuts, toasted
2 c baby salad greens
1/4 c sprouts (optional)
Lemon Honey Vinaigrette:
2 tbsp olive oil (plus a little more to drizzle on at the end)
2 tbsp lemon juice (plus a little more to squeeze on at the end)
1 tbsp champagne vinegar
1/2 garlic clove, minced
1/2 tsp honey
salt & pepper
Instructions
Cook your quinoa. I like this method.
In a small bowl whisk together the vinaigrette ingredients.
Toss all salad ingredients together and pour on the dressing. Taste and adjust seasonings to your liking. I added a final squeeze of lemon juice and a drizzle of olive oil on top.
This is the kind of salad that gets better as it sits and the flavors mesh together… so if you have the patience, let it chill for 15-20 minutes before serving. Make extra if you want leftovers for lunch the next day.
http://www.loveandlemons.com/2012/07/06/strawberry-quinoa-feta-salad/