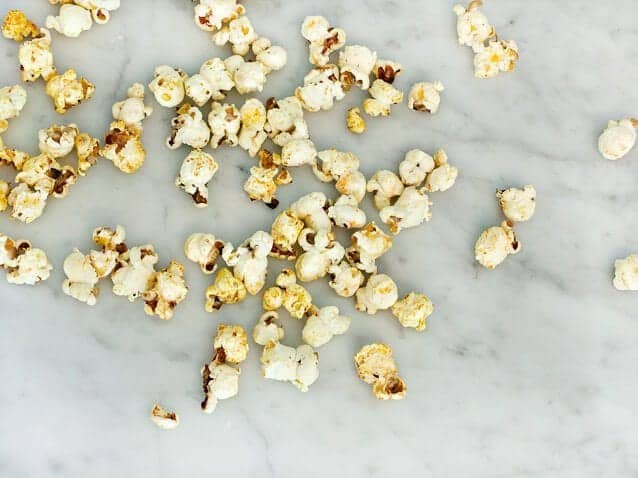 Since starting this blog a couple months ago (feels more like a year ago), I've "met" some of the nicest people and have received the most encouraging feedback. I honestly thought my mom would be our only reader for the first few months (hi Mom), so the idea that people are actually reading and commenting, and tweeting (lord knows that was quite the learning curve for me) has made me feel just so welcomed.
One of the first people to reach out to me the week we launched the site was Kate from the blog Cookie + Kate. I've been following her ever since and recently she launched this really great project called The Food Matters Project where a group of people all cook through Mark Bittman's The Food Matters Cookbook together. Each week someone chooses a recipe, everyone creates their take and then posts it on the same day.
True to form, I put off my "homework" until the night before so late last night Jack and I went to popcorn town… which turned out to be a super fun family activity. Jack did the popping, we mixed and matched a variety of toppings. We scorched a few pans, made a little mess… and the dogs did their part by taking care of the pieces that fell all over the floor.
In the end the version we liked most (and burnt the least of), was a curry and brown sugar combo. A salty, sweet, spicy, indian-flavored treat.
For all the popcorn that was flying around last night, somehow this morning when I went to photograph it, this was about all that was left.
See the full recipe and instructions on Kate's blog. To this we added 2 tablespoons of melted non-dairy butter, 2 tablespoons brown sugar, 1 heaping teaspoon of curry powder, a pinch of cayenne and a good shake of salt. If you mix the brown sugar into the melted butter before you pour it on, more of the brown sugar will coat the popcorn and less will fall to the bottom of the bowl.