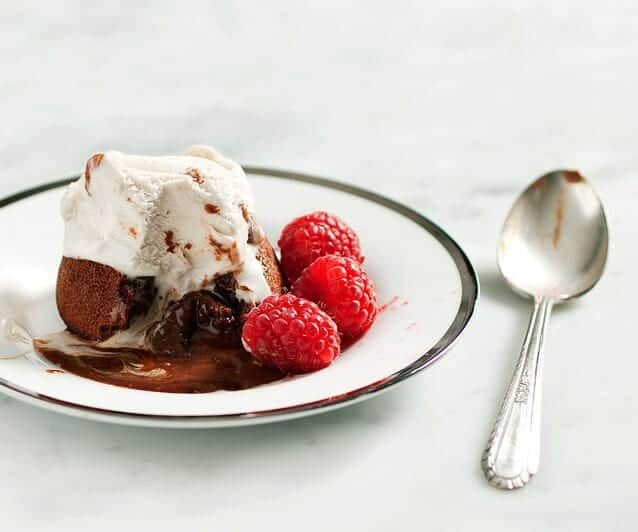 Jack first made molten cakes for us for valentines day a few years ago and these luscious little cakes have become a tradition of ours ever since.
It's the one night a year that Jack cooks and (given his limited experience) he doesn't play it safe. He might not know the difference between a scallion and a scallop, or that 3 cloves of garlic are not 3 bulbs of garlic. And every single pot and pan we own will be scattered around every bit of counter space we have (and we have a lot of it). But you have to admire the ambition & the effort.
Now, part of this "he cooks" tradition is that I'm not allowed to make any in-progress comments or suggestions… not a tip, tidbit, or pointer. It kills me inside to (try to) sit silent and watch.
So when he poured his molten cake batter into a banana bread pan, he didn't want my suggestion that since it's such a large pan (these are supposed to be individual servings), he might want to bake it longer than the 5-6 minutes the recipe suggests. So he was absolutely crushed when he took it out, flipped it over and chocolate oozed out in every direction.
Thankfully, he had made enough batter for 20 molten cakes, so he conceded and took my muffin pan suggestion for try number two. And although they came out perfectly, it didn't stop us from lapping up every last bit of the batter from the "bread pan soup cake" as well.
So whether yours form into a proper cake, or you end up eating chocolate soup with a spoon, rest assured you'll lick the plate clean either way.
This recipe makes 12 muffin-sized cakes.
He makes 1/3 of the recipe, bakes 2, and then keeps the remaining batter in the fridge so we have two more for the next night.
The batter keeps in the fridge for a couple of days and it's just as good only you'll have to increase the baking time a few minutes to account for the batter being more chilled. This works better than baking off extra and storing already-baked cakes.
adapted from Food Network.
INGREDIENTS
8 ounces + 6 tablespoons of butter (he uses non-dairy butter, it works as well as regular)
10 ounces bittersweet chocolate
6 egg yolks
6 eggs
3 cups powdered sugar
1 cup flour (he used spelt, because that's what I had on hand)
Preheat oven to 450 degrees.
Melt the chocolate and butter together in a double boiler, or in a glass bowl set on top of a pot of boiling water if you don't have a double boiler.
In a separate bowl whisk the yolks and eggs and then stir in the powdered sugar. Combine this into the chocolate mixture and then stir in the flour.
Grease a muffin pan (don't ever use paper liners) and fill muffin cups almost to the top. (They don't rise as much as regular cupcakes or muffins).
Bake for 5-8 minutes (depending on your oven). Watch closely, the whole cake will puff up and they're done a few seconds after you see the very center puff up. Remove from the oven. Place a baking sheet on top of your muffin pan and flip, holding both pans together. Gently lift up the muffin pan and shake it a little so the cakes release before the "lava" center breaks through the top (now bottom) of the cake. If that happens, it's still ok, just try to shove the chocolate goo back up in the cake and place gracefully on a plate.
Scoop ice cream on top and serve.