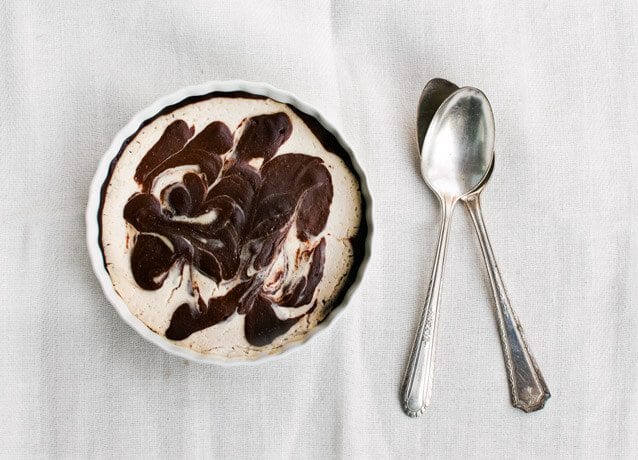 This was sort of a happy accident. I had some tofu cream cheese in my fridge that I wanted to use up. I thought I'd make it a little healthier by blending it with a box of silken tofu and then make a lovely lemon scented vanilla pudding… The first mistake I made was adding the whole box of silken tofu instead of starting out with half (or so) and judging the consistency. The second was that I used the "soft" version, which resulted in more of a smoothie than a decadent dessert. I set it in the fridge overnight hoping it would firm up, (which it did a little) but it still tasted just so…vegan… and not in a good way. Isn't the goal of vegan baking to fool people afterall?
I almost tossed the whole mixture, until I had the idea to try to turn it into a marble cream cheese brownie. I made a rich and fudgy brownie to offset the sweet and tangy cream mixture. The result was pretty darn yummy and I was more than pleasantly surprised.
INGREDIENTS:
1/2 cup earth balance butter
4 ounces unsweetened chocolate, coarsely chopped
1 cup agave syrup or sugar of your choice
1 teaspoon vanilla
Egg substitute equal to 2 eggs (suggest: vegan "flax eggs": 2 tablespoons ground flax seeds + 6 tablespoons water, see note below)*
1/2 cup spelt flour (or flour of your choice)
small pinch of salt
1/2 tub tofutti cream cheese
1 box firm silken tofu (I used soft, but firm would have been better)
1/4 cup agave syrup
1 teaspoon vanilla
1/4 teaspoon salt
squeeze of quarter or half a lemon (about 2 tablespoons)
METHOD:
Brownie layer: (this turns out more like fudge)
Preheat oven to 325 degrees
Spray an 8×8 pan with cooking spray, or line with parchment paper. (or individual or shareable ramekins like I did).
In a glass or stainless steel bowl placed over a saucepan of simmering water, melt the butter and chocolate. Remove from heat and stir in the sugar and vanilla extract. Add the "eggs" (or flax egg mixture), beating well, by hand, with a spoon or spatula. Stir in the flour and salt and continue stirring until the batter is smooth and glossy and everything is combined, but not over-mixed (about one minute). Remove one third to one quarter of the brownie batter and set it aside. Place the remainder of the brownie batter evenly onto the bottom of the prepared dishes. Let cool to room temperature.
In a food processor, process the cream cheese, silken tofu, sugar, vanilla, salt, and lemon juice until smooth. Spread the cream cheese filling evenly over the brownie layer. Spoon small dollops of the reserved brownie batter evenly on top of the cream cheese filling. Then with a table knife or wooden skewer, swirl the two batters to create the marbling.
Bake in the preheated oven for about 25 minutes or until the brownies start to pull away from the sides of the pan and the edges of the brownies are just beginning to brown. Remove from oven and let cook completely. Chill in refrigerator for at least a couple of hours.
* for vegan flax eggs (equivalent of 2 eggs): add hot water to 2 tablespoons ground flax seed oil. Whisk and chill in the refrigerator for about 15 minutes. The mixture should be a sticky goo.
brownie layer adapted from joyofbaking.com