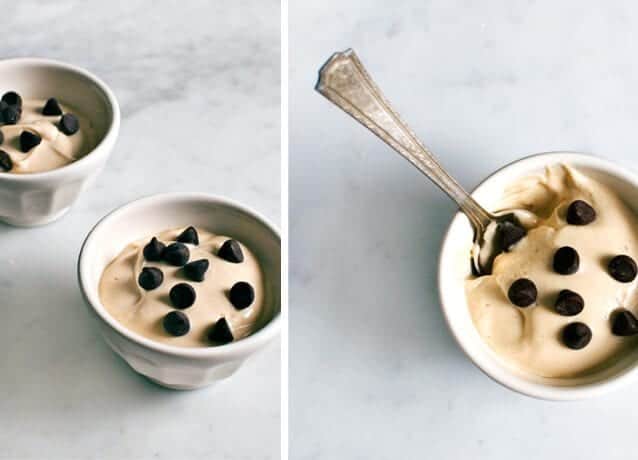 I have no real recipe for this… I had a half box of leftover silken tofu, peanut butter, and a dream. I put both ingredients into my magic bullet with a squeeze of agave syrup and a tiny splash of vanilla. I splashed in some coconut milk (the un-flavored kind that's in the soy milk aisle, not the thai cans that you cook with) because my magic bullet is losing it's "magic" and the blade won't blend if it's contents are too thick.
I tasted and adjusted… if you want to impress your friends and have them never know this was vegan, add more peanut butter. If you like things on the lighter side and tofu isn't scary to you, add less peanut butter. Remember that after a few hours in the fridge, the flavors will concentrate and it'll become tastier and thicker than it is right out of the blender. (although it's pretty darn good right out of the blender… you'll have more control than I do if you let it actually "set" in the fridge).
Oh, and don't forget the chocolate chips, perhaps a drizzle of nutella, or a chocolate product of your choice.
INGREDIENTS: 
serves 4
1 box of firm silken tofu
1/4 -1/3 cup peanut butter (I use natural creamy, no-stir)
squeeze of agave or maple syrup (I think I used a scant 1/4 cup)
splash of milk (whatever kind you prefer), if necessary
1/2 teaspoon vanilla
pinch of salt
chocolate chips, or crushed chocolate cookies, optional
METHOD:
Place all ingredients into small food processor and blend. Splash in more milk if it's too thick and you need to get the blade moving. Taste and adjust amount of peanut butter, syrup, and salt to your liking.
Pour into 4 small bowls or ramekins, cover with foil and let set in the fridge for maybe an hour or two.
Top with chocolate chips or crushed chocolate cookies.